Thank you for visiting Us!
Take a look at your house AC/HVAC filters after only one month. Filthy dirty with the stuff you're breathing through your body filters each day. The following body parts get dirty, where most all disease starts from…..
Clean your filters…..
THANKS FOLKS 
 This is one of the most powerful anti-aging processes you can do.
   We know that the air you breathe, the water you drink, the food you eat are polluted and contain toxic chemicals. Even the food we take in is loaded with preservatives, colorings and additives. All of us face these toxins in our everyday life and after taking them in (with every breath, every bite, and every drink) your body starts to not function properly. You can't sleep, you gain weight, you are bloated and you are constipated, really your body wasn't made to function with all these toxins. Think of a small baby, who has not been exposed to toxic pollutants. They eat, then right afterwards they release the waste from what they have eaten. As we get older that isn't how it works for many people; many people eat and maybe they are not able to release the waste for 2 or 3 or 4 days or even a week. You have to ask yourself, where is this waste from 8, 10, 12 meals hiding? The food has been taken into your body but the waste hasn't been released so it has to be somewhere.
It IS somewhere;
 it is stuck in what we call the"garbage pail of the body," the colon. And just like a trash can where the trash sits for 5 days or 7 days itstinks and becomes rotten. After 2 weeks, you might find worms growing. And a month later there will be bacteria, mold and fungus growing as it breaks down.
This is what happens to your body; when you take in pollutants and eat white flour foods, sugars highly refined foods, animal fats, packaged foods – all of the things the body was not designed to break down and easily eliminate are stored in the tissue and fat cells throughout your body and this toxic build-up needs to be released by the 5 organs of elimination and detoxification which doesn't easily happen without a deep detoxifying cleanse of your entire system.
Ultimately this toxic waste gets dumped and accumulates in your garbage pail. Over time as you poison yourself, (called auto-intoxification) you create dis-ease and this disease generallyhits your weakest link. For some it is inflammation in the joints and arthritis, others have respiratory challenges; frequent colds and bronchitis. Others feel sluggish and tired and arefuzzy in their thinking. What a case for detoxification!
  At Intestinal Fitness, LLC  we don't really focus on the symptoms or the effect of the toxic condition, we focus on detoxifying and cleaning out the garbage pail Our job is to remove toxic waste from your colon and the other organs of elimination like the liver and the kidneys. Your body responds quickly; once you are detoxed and you have cleaned out, you automatically start pumping clean blood, through the circulatory system and your lymphatic system carries in the nutrition and pumps out the waste as it was designed to do…all over the body to every one of the 75 trillion cells that make up YOU.
And when you are detoxified, verything about you starts to regenerate and rejuvenate naturally just by focusing on removing the poisons in the body.
T

his is one of the most powerful anti-aging processes you can do.
Hi folks and thank you!
  People,     if you are confused about what Complementary, Alternative,  safe,  natural,  detoxification therapy to use to clean up with, just ask a white coat (you walk in a hospital/docs office what do you see? a sea of white coats right?). Whatever the white coat tells you, it's the exact opposite! 
So for example, you ask a white coat Doctor,  Nurse,  PA  main stream, traditional, allopathic, conventional, injections, drugs and surgery person ; Should I do colonics?  and the white coat response is:  "why would you do that? or you don't need to detoxify, your body can do it on it's own, or they are all quacks or something at all the least bit discouraging..here is what I suggest you do….
RUN, do not walk to whatever it is they discouraged you from doing. It's that easy folks.
White Coat credibility is in the CAN . The mainstream, medical, conventional ,  injections, drugs and surgery person are puppets run by the Legal Drug Cartels (PHAT PHARMA).  The drug Lords
 have BILLIONS of dollars to make.
 You interfere with that plan when you keep 30 feet of intestines clean.  
You interfere with profits when you detoxify your body.  
I was a main stream puppet for 19 years.
 White Coat! But I switched to Naturopathy and cleansing because of the gross negligence on behalf of WHITE COAT syndrome. 
Been in practice for 10 years now as a colonic therapist/ Naturopathic Doctor.
We would love to walk hand in hand with white coats but through ignorance and greed they refuse to accept us. (Most Of Them)
We 're not talking about the good guys here, the ones that slap you back together in crisis. 
Traditional Chinese Medicine (TCM) is around 5, 000 years old, and Ayurvedic is about 5, 000 years old. Together, thats 10,000 years experience with enemas and colonics that have worked. Now 167 years ago WHITE COATS American Medical Association comes along and knows it all?
hmmmmm…… I don't know…..
Natural Health Suppressed for the last 167 years: watch this!http://www.thrivemovement.com/medical-establishment
The following web site is a great place to start to see for yourself the suppression going on:
you are going to be shocked at this:
http://www.youtube.com/watch?v=aWRzikJ3iso
you won't belive this 2 minute video:
http://www.youtube.com/watch?v=G4XZzhJfHFE
Folks I know both sides.  Suppression Of Natural Health Modalities link here:
http://www.thrivemovement.com/suppression-natural-remedies
Detoxification – An Essential Process
Detoxification is a buzzword we hear more and more recently, especially in Complementary and Alternative Medicine circles. But what does detoxification actually mean and is it even worth your time to think about it?
Well yes, it probably is because the world we live in is so filled with toxicants (commonly called "toxins") that even the strongest and healthiest among us are being assaulted every day with chemicals that our bodies must cope with (detoxify and remove) in order for us to survive. If our load of poisons is more than we (or each of our particular genetics) can handle, then this toxic exposure will eventually make us sick or could eventually even kill us. Our bodies, through normal operation, produce a base load of toxins that we need to process to keep functioning. We do have a capacity to detoxify more, but even if you happen to be extraordinarily careful and try to avoid every toxin in the world, there will come a time when you are accidentally exposed to a dose of some kind of toxic substance. Your body must detoxify all of these toxins in order for you to maintain your health.
Fortunately, our bodies have ways of handling foreign contaminants, primarily through the liver and kidneys. Clearing out toxic substances is known as detoxification, and our bodies are pretty good at it most of the time. But, there are some cases when your body needs just a little bit of help.
How can we help our bodies to detoxify and is it worth the bother?
We, as humans, evolved to be able to handle certain problematic substances that are in our environment or diet (infections, injury, animal bites, and poisonous plants were the primary toxins we dealt with for most of our evolution).
Humans eventually started mining our own toxic substances. A good early example of this is the mining and using heavy metals like lead. During the Roman Empire people used make up and even "health" supplements created using lead, which caused significant illness in those exposed. Humans also experimented with toxic substances using them for manufacturing (e.g. using mercury to make men's top-hats, leading to the now familiar description of top-hat manufacturers as "Mad as a Hatter").
But the last 100 – 200 years has seen an explosion in the development and use of new and particularly dangerous toxic substances. This is primarily because chemistry has matured and humans learned how to assemble all kinds of "useful" chemicals. Unfortunately, many of these chemicals are also very toxic and often make us sick. From pesticides to industrial waste products, the amount of toxins we are exposed to is staggering.
HOW DOES YOUR BODY REMOVE TOXINS?
To simplify a very complicated subject, there are only a few ways our body can actually remove toxins from itself. The number 1 and 2 ways are pretty obvious (i.e. urination and defecation). Of course, If you've ever been sick with a stomach "bug", you are probably well acquainted with another, more extreme route — nausea and vomiting clears out your stomach contents very quickly taking any toxins you ingested along with it. Another, less expected, way of removing toxins from our body is sweating, where the moisture and salts in our skin literally "pull" the toxins out with them. Another method of toxin removal, you may not give much thought to, is respiration. A good example of this is that every minute we breathe out excess carbon dioxide (a toxin for us).
Finally, if your body can't get rid of a toxin through any of these means, it will simply wall off the offending material. The problem with this last method is that the inflammation needed to wall of a toxic substance (let's say asbestos) leads to the formation of very fibrous scar tissue. This scar tissue often is created exactly where you don't want it, like your lungs or your arteries. This is why there was so much litigation around asbestos exposure. The body would wall off the dangerous asbestos molecules causing severe lung scarring (asbestosis) because our bodies cannot "detoxify" asbestos in any other way.
FAT AND WATER
The liver processes fat soluble toxins
so that they can be eliminated
through your intestines as bile.
Toxins fall into two broad categories, fat soluble and water soluble. This means that a given chemical can only really be stored in fat or water, but usually not both. For instance, vitamins A, D, E, and K are fat soluble, so they are stored in fat cells in your body, the liver specifically. While vitamins are not toxins, it illustrates how things can be stored and transported in the body. Because they need fat to make their way into your body, this is why many supplements are supposed to be taken with a meal.
The body uses two different approaches to remove toxins from our bodies:
Fat soluble toxins are removed by the liver through the production of bile (a digestive enzyme the liver produces) and releases it into the small intestine during digestion. Once there, it is absorbed by the fiber in your diet, and safely pushed through until you deposit it in the toilet. This is one of the big reasons why fiber is so important in your diet; without enough of it, the toxins can be reabsorbed through your intestine into your body and must be processed out again.
The kidney removes water
soluble toxins.
Water soluble toxins have a number of different ways of being detoxified and removed by our bodies. After the liver processes them into (slightly) safer versions, the "tagged" toxins travel through your bloodstream until they reach the kidneys. Once in the kidneys, the chemical tag the liver put on the toxin is recognized by the cells there and the tagged toxins are moved through to the bladder, where you can pee them out safely. This is why urine tests are so useful for recognizing imbalances in chemicals in your body, as many chemicals are removed this way if they are in excess or there is some other problem. This is also why urine tests are used to detect the "metabolites" (chemicals produced in breaking down a substance) of drugs, legal or otherwise.
THE LIVER
The "go to" organ for dealing with things that don't belong in your body is the liver. Your liver plays a number of crucial roles in your system especially the immune system, well as regulating levels of a large number of hormones and other chemicals (e.g. vitamins, blood sugar levels) that, if out of balance, could be considered toxic. Your liver is also one of the main places that medications and other drugs are broken down so that they can be removed from your body. On top of all this, the liver both aids in digestion (by producing bile to help digest fats) and sends out processed waste for removal. There are two major steps in processing toxins.
The cytochrome system is an extremely complex set of enzymes that perform a remarkable number of reactions in virtually every cell in your body. When your liver encounters a toxin, the cytochrome system is the first line of defense that springs into action. There are about 100 enzymes involved in this process, and they essentially convert anything they can into water-soluble chemicals that can be removed by (primarily) your kidneys.
The major detox pathways and what supports them.
Anything the cytochrome enzymes can't convert into specifically a water-soluble chemical is transformed into a type called a reactive form, called a "free radical". This means that an oxygen atom is tagged onto it, making it potentially more harmful, except that it then becomes a target for anti-oxidants in your body.
Glutathione
One of the most powerful anti-oxidants found in the body is a chemical called glutathione. Glutathione is found in our diet and also naturally produced by your body. It is found in fruits, vegetables, fish, and meat. It is a pretty simple compound made up of three amino acids — cysteine, glutamic acid, and glycine. Even though it is found in a number of foods, supplementing glutathione directly does not appear to be effective, since the body can't absorb it very well in the intestines. You can, however, supplement the levels of the amino acids it is made up of (cysteine, glutamic acid, and glycine) to allow your body to produce more as it is needed. Glutathione is the main way that our bodies remove heavy metals and many fat-soluble toxins, by binding with them and making the water-soluble for the kidney to remove.
Glutathione is also one of the major ways your body processes toxins after the cytochrome system is done working on them. The cytochrome system generates a lot of "free radicals" (chemicals that can cause DNA damage as well as physical damage to many cells in the body) when processing toxins. In order to "fix" these free radicals generated from the cytochrome system, glutathione is essential. If your body runs out of glutathione because of a particularly strong or chronic exposure to toxins, these dangerous forms of toxins (free radicals) can cause significant damage.
WHAT CAN I DO TO REMOVE TOXINS FROM MY BODY?
While there are many things you can do to increase toxin removal, there are some small changes that make a big difference.
First, avoid taking in the toxins in to your body to begin with: For example, eating organic food instead of conventionally farmed foods can remove almost all synthetic pesticides getting into your body. This alone greatly reduces the toxic load that your body must process, not to mention avoiding the nasty side effects of pesticides overall. Other important toxins to avoid are Volatile Organic Compounds (VOCs) like formaldehyde.
Second, eat more fiber: Since fiber helps to remove fat soluble toxins in your intestines (released as bile) while also preventing them from being reabsorbed, increasing your fiber intake can reduce the burden of having to reprocess the toxins that don't get a chance to clear and are reabsorbed.
Charcoal appears to act in a similar fashion to fiber in this regard, absorbing and binding with potentially dangerous chemicals and poisons; this is why when someone accidentally ingests a poison, doctors may recommend taking activated charcoal, as it helps neutralize many different kinds of poisons. Products like Takesumi Supreme (finely ground carbonized bamboo) do this remarkably well, and are a safe way that I use to help my body remove potential toxins. Originally developed and sold in Japan, Takesumi can be used in water or even added to baked goods as a source of fiber, as many Japanese bakeries do. Takesumi is an extremely gentle and safe method for removing excessive heavy metals. It can be particularly helpful in removing mercury in people who have problems associated with excessive mercury buildup in their bodies.
Supplements
In addition to these changes, you could also consider taking some supplements to support the systems that work to keep you toxin-free. The best supplements to help your body remove toxins are those that act as anti-oxidants or in some way enhance the production of glutathione. These include:
Vitamin C
Vitamin E
Alpha-lipoic acid (ALA)
Selenium (found in onions, broccoli, and Brazil nuts)
S-adenosylmethione (SAMe)
amino acids like cysteine, glutamic acid, and glycine (which make up glutathione)
Milk Thistle (helps produce glutathione)
CONCLUSION
It is important to remember that the toxins in your environment are not the only ones that your body processes. There are waste products in your metabolism that need to be processed out as well, such as hormones, ammonia (from breaking down proteins), and many others. In addition, the liver processes certain things we eat in exactly the same way as toxins, such as ethanol (from alcoholic beverages) and fructose (half of ordinary table sugar). but it can also degrade the performance of the liver removing other toxins.
When you add the load of environmental toxins, your body's natural detoxification system can easily get overwhelmed. Knowing how to decrease your toxic load and increase your body's ability to replenish its defenses is a key part of maintaining optimum health
Hello! Thanks for getting to this site!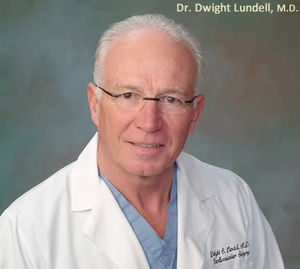 Dr. Dwight Lundell speaks out………
We physicians with all our training, knowledge and authority often acquire a rather large ego that tends to make it difficult to admit we are wrong. So, here it is. I freely admit to being wrong. As a heart surgeon with 25 years experience, having performed over 5,000 open-heart surgeries, today is my day to right the wrong with medical and scientific fact.
I trained for many years with other prominent physicians labelled "opinion makers." Bombarded with scientific literature, continually attending education seminars, we opinion makers insisted heart disease resulted from the simple fact of elevated blood cholesterol.
The only accepted therapy was prescribing medications to lower cholesterol and a diet that severely restricted fat intake. The latter of course we insisted would lower cholesterol and heart disease. Deviations from these recommendations were considered heresy and could quite possibly result in malpractice.
It Is Not Working!
These recommendations are no longer scientifically or morally defensible. The discovery a few years ago that inflammation in the artery wall is the real cause of heart disease is slowly leading to a paradigm shift in how heart disease and other chronic ailments will be treated.
The long-established dietary recommendations have created epidemics of obesity and diabetes, the consequences of which dwarf any historical plague in terms of mortality, human suffering and dire economic consequences.
Despite the fact that 25% of the population takes expensive statin medications and despite the fact we have reduced the fat content of our diets, more Americans will die this year of heart disease than ever before.
Statistics from the American Heart Association show that 75 million Americans currently suffer from heart disease, 20 million have diabetes and 57 million have pre-diabetes. These disorders are affecting younger and younger people in greater numbers every year.
Simply stated, without inflammation being present in the body, there is no way that cholesterol would accumulate in the wall of the blood vessel and cause heart disease and strokes. Without inflammation, cholesterol would move freely throughout the body as nature intended. It is inflammation that causes cholesterol to become trapped.
Inflammation is not complicated — it is quite simply your body's natural defence to a foreign invader such as a bacteria, toxin or virus. The cycle of inflammation is perfect in how it protects your body from these bacterial and viral invaders. However, if we chronically expose the body to injury by toxins or foods the human body was never designed to process,a condition occurs called chronic inflammation. Chronic inflammation is just as harmful as acute inflammation is beneficial.
What thoughtful person would willfully expose himself repeatedly to foods or other substances that are known to cause injury to the body? Well, smokers perhaps, but at least they made that choice willfully.
The rest of us have simply followed the recommended mainstream diet that is low in fat and high in polyunsaturated fats and carbohydrates, not knowing we were causing repeated injury to our blood vessels. This repeated injury creates chronic inflammation leading to heart disease, stroke, diabetes and obesity.
Let me repeat that: The injury and inflammation in our blood vessels is caused by the low fat diet recommended for years by mainstream medicine.
What are the biggest culprits of chronic inflammation? Quite simply, they are the overload of simple, highly processed carbohydrates (sugar, flour and all the products made from them) and the excess consumption of omega-6 vegetable oils like soybean, corn and sunflower that are found in many processed foods.
Take a moment to visualize rubbing a stiff brush repeatedly over soft skin until it becomes quite red and nearly bleeding. you kept this up several times a day, every day for five years. If you could tolerate this painful brushing, you would have a bleeding, swollen infected area that became worse with each repeated injury. This is a good way to visualize the inflammatory process that could be going on in your body right now.
Regardless of where the inflammatory process occurs, externally or internally, it is the same. I have peered inside thousands upon thousands of arteries. A diseased artery looks as if someone took a brush and scrubbed repeatedly against its wall. Several times a day, every day, the foods we eat create small injuries compounding into more injuries, causing the body to respond continuously and appropriately with inflammation.
While we savor the tantalizing taste of a sweet roll, our bodies respond alarmingly as if a foreign invader arrived declaring war. Foods loaded with sugars and simple carbohydrates, or processed with omega-6 oils for long shelf life have been the mainstay of the American diet for six decades. These foods have been slowly poisoning everyone.
How does eating a simple sweet roll create a cascade of inflammation to make you sick?
Imagine spilling syrup on your keyboard and you have a visual of what occurs inside the cell. When we consume simple carbohydrates such as sugar, blood sugar rises rapidly. In response, your pancreas secretes insulin whose primary purpose is to drive sugar into each cell where it is stored for energy. If the cell is full and does not need glucose, it is rejected to avoid extra sugar gumming up the works.
When your full cells reject the extra glucose, blood sugar rises producing more insulin and the glucose converts to stored fat.
What does all this have to do with inflammation? Blood sugar is controlled in a very narrow range. Extra sugar molecules attach to a variety of proteins that in turn injure the blood vessel wall. This repeated injury to the blood vessel wall sets off inflammation. When you spike your blood sugar level several times a day, every day, it is exactly like taking sandpaper to the inside of your delicate blood vessels.
While you may not be able to see it, rest assured it is there. I saw it in over 5,000 surgical patients spanning 25 years who all shared one common denominator — inflammation in their arteries.
Let's get back to the sweet roll. That innocent looking goody not only contains sugars, it is baked in one of many omega-6 oils such as soybean. Chips and fries are soaked in soybean oil; processed foods are manufactured with omega-6 oils for longer shelf life. While omega-6′s are essential -they are part of every cell membrane controlling what goes in and out of the cell — they must be in the correct balance with omega-3′s.
If the balance shifts by consuming excessive omega-6, the cell membrane produces chemicals called cytokines that directly cause inflammation.
Today's mainstream American diet has produced an extreme imbalance of these two fats. The ratio of imbalance ranges from 15:1 to as high as 30:1 in favor of omega-6. That's a tremendous amount of cytokines causing inflammation. In today's food environment, a 3:1 ratio would be optimal and healthy.
To make matters worse, the excess weight you are carrying from eating these foods creates overloaded fat cells that pour out large quantities of pro-inflammatory chemicals that add to the injury caused by having high blood sugar. The process that began with a sweet roll turns into a vicious cycle over time that creates heart disease, high blood pressure, diabetes and finally, Alzheimer's disease, as the inflammatory process continues unabated.
There is no escaping the fact that the more we consume prepared and processed foods, the more we trip the inflammation switch little by little each day. The human body cannot process, nor was it designed to consume, foods packed with sugars and soaked in omega-6 oils.
There is but one answer to quieting inflammation, and that is returning to foods closer to their natural state. To build muscle, eat more protein. Choose carbohydrates that are very complex such as colorful fruits and vegetables. Cut down on or eliminate inflammation- causing omega-6 fats like corn and soybean oil and the processed foods that are made from them.
One tablespoon of corn oil contains 7,280 mg of omega-6; soybean contains 6,940 mg. Instead, use olive oil or butter from grass-fed beef.
Animal fats contain less than 20% omega-6 and are much less likely to cause inflammation than the supposedly healthy oils labelled polyunsaturated. Forget the "science" that has been drummed into your head for decades. The science that saturated fat alone causes heart disease is non-existent. The science that saturated fat raises blood cholesterol is also very weak. Since we now know that cholesterol is not the cause of heart disease, the concern about saturated fat is even more absurd today.
The cholesterol theory led to the no-fat, low-fat recommendations that in turn created the very foods now causing an epidemic of inflammation. Mainstream medicine made a terrible mistake when it advised people to avoid saturated fat in favor of foods high in omega-6 fats. We now have an epidemic of arterial inflammation leading to heart disease and other silent killers.
What you can do is choose whole foods your grandmother served and not those your mom turned to as grocery store aisles filled with manufactured foods. By eliminating inflammatory foods and adding essential nutrients from fresh unprocessed food, you will reverse years of damage in your arteries and throughout your body from consuming the typical American diet.
Thank you Folks! :lol
1. STAY UNCONSTIPATED USING COLONICS OR USE A NATURAL INEXPENSIVE PLANT FOOD SUPPLEMENT TO HELP YOU POOP THREE TO FIVE TIMES PER DAY
WHY?
Staying unconstipated with colonics and or a natural plant food supplement are safe and effective ways of removing waste from the large intestine. Keeping the colon clean helps the system run at an optimum capacity, keeping metabolism high. Now I have heard nearly all reasons "WHY" people don't poop daily like for instance; I can't poop in the morning I have to get to work; can't poop at work; at school; around my boyfriend; going to a wedding; flying on a trip;going on a date;going to a game; don't want to get up during sleep;can't use a portapottie;don't use public rest rooms etc… anyone else have any more I haven't heard?

2. USE ORGANIC, UNREFINED, VIRGIN COCONUT OIL 1 TBSP IN THE MORNING AND 1 TBSP IN THE LATE AFTERNOON
WHY?
The medium chain essential fatty acid or EFA provide an immediate energy source, speeding metabolism, while lessening transit time of other food products in the digestive track.
3. ONE TBSP RAW ORGANIC APPLE CIDAR VINEGAR BEFORE EACH MEAL
WHY?
Apple cider vinegar contains acetic acid which stimulates the production of stomach acid. The more stomach acid the better. It will break down your food into smaller molecules. The smaller the molecules the more efficiently your intestines and liver can absorb the nutrients it needs. The faster it gets the nutrients the faster your metabolism gets.
4. TAKE DIGESTIVE ENZYMES WITH EACH MEAL
WHY?
It's an excellent chance that your body is not producing enough digestive enzymes to deal with the food that you are consuming. Digestive enzymes will speed up metabolism and reduce gas and bloating. Digestive enzymes make your food digest quicker and easier and go through your system much faster. Extra lipase, protease, amylase, cellulase, lactase can only benefit the system and speed metabolism.
5. DRINK WATER IMMEDIATELY IN THE AM
WHY?
It is a gentle way to start your body's metabolism and it is the best natural appetite suppressant. Warm water versus cold water. Cold constricts the body channels and you want the channels open to flush out toxins and better absorption of nutrients to come.
6. EAT ORGANIC GRAPEFRUITS AND APPLES ALL DAY
WHY?
Both are natural appetite suppressants. And because they are mostly water, low in calories, low in sodium, high in potassium, high in fat burning enzymes and loaded with vitamins and minerals, they assimilate quickly into your system. Grapefruits are 90% water. The more water you intake the more you will increase your metabolism. Apples have a high water and high fiber content too, giving you that feeling of satiety longer, hence eating less.
7. EAT A BIG SALAD FOR LUNCH AND DINNER AND LIMIT IT TO FOUR ITEMS ONLY
WHY?
Salad items are usually full of water, fiber, vitamins, minerals and phytochemicals, and there is usually copious chewing involved with eating salads. This all sends messages of satiety to the brain. The limitation of four items is a food combining issue. Sending too many items down the track at one meal delays transit time, creating gas and bloat.
8. DRINK 4-6 CUPS YERBA MATE' or Woolong TEA/ day
WHY?
These teas have a Thermo-genic Effect" that shrinks appetite and tames cravings. These products produce heat which increases your metabolism.
9.Juice Fasting with The Juiced Up Juice Bar 
WHY?
The less one chews & eats the more the body turns to its own fat storage for energy. Gives the digestive track a rest. Plant food juice contains numerous vitamins and minerals, enzymes, amino acids, natural sugars and agents which are anti-inflammatory, anti-microbial & act as natural diuretics. It's also a great opportunity for detoxification.
10. REDUCE OR ELIMATE FLOURIDE INTAKE
WHY?
Fluoride creates hypothyroidism. Hypo or under active thyroid function. Excess fluoride correlates with all thyroid-related issues. When there is excess of fluoride in the body it can interfere with the function of the thyroid gland. It is possible that iodine deficiency, which is the most common cause of brain damage and mental disability in the world, could be lessened by simply cutting back on the use of fluoride. Definitely filter your drinking water, and consider a shower filter since your skin filters gallons of tap water during one shower.
11. NO FOOD AFTER 6 PM
WHY?
This habit lessens the chances of you going belly up with a full meal in your gut. The natural circadian rhythm of sleep allows your organs to detox in an orderly fashion during the night. A full meal in the digestive track at bedtime stops that detox time, slows down metabolism, builds toxins, and encourages fat storage.
12. Discontinue use of main stream perfumes, fragrances, colognes and scented toiletries to include air fresheners.
WHY?
Those industries are not monitored or policed. Those industries may use any chemical they choose and they do. The chemicals they use are hormone disruptors. When you wear and use those products, you disrupt your hormonal balance and gain weight. You wear or use it strong enough and it disrupts other people's hormones. Second hand hormone disrupting going on all over the place, especially at the beach with the new spray sun tan lotions.
13. Do not eat GMO foods
WHY?
Genetically Modified foods are created by forcing genes from one species, such as bacteria, viruses , animals or humans, into the DNA of a food crop or animal to introduce their desired trait.
Eating Genetically Modified Foods damages, livers & kidneys. Serious health risks are associated with genetically modified foods, including infertility, immune problems, accelerated aging, faulty insulin regulation. Because they are a fake food, your body does not recognize them so bloating, gastritis, constipation, weight gain and sickness will soon ensue.
14. Do not use a microwave oven
WHY?
Microwaving food and drink alters the product structure on a molecular level and degrades the food. Then your body does not recognize the product. It sits in the digestive track moving extremely slowly, hence weight gain. When you microwave food the result is a carcinogenic food you then eat a carcinogenic food and you get cancer. So microwaving food causes cancer and weight gain.
15. Use Dry Far Infra-red Saunas
WHY?
Dry Far Infrared saunas burn up 600 calories in a 30 minute session sitting right still on your rump. At 150 degrees the body's detoxification portal exits open wide and toxins from organs are allowed to flow freely carried out by sweat. Also your heart rate slowly comes up to your ideal aerobic zone in the session, effortlessly raising your metabolism and losing weight.
16. Follow an alkaline diet with proper food combining
WHY?
An Alkaline diet with proper food combinations is naturally anti-inflammatory. When food enters the alimentary canal in improper combinations that causes inflammation. Inflammation is swelling of tissues with extra water. Extra water equals extra weight gain. Following a alkaline diet equals weight loss and sickness free. Following an acidic diet equals weight gain , cancer and slow painful death. The worst acidic items that can be ingested are in sodas. Sodas contain sugar, HFC, aspartame, phospheric acid, colors, caffeine and those are only what us food investigators know of. Powerful companies are not policed well.
17. Employ an 8 minute walk one way and an 8 minute walk back
WHY?
That equals 97 and ½ hours of movement over a year's span. Even if you are already exercising, this practice will easily allow for even more weight loss. Most people find it doable to simply walk in one direction for 8 minutes, and back than to plan in an hour workout on a tight schedule.
18. Use Astaxanthin daily
WHY?
Astaxanthin is a rich red algae based anti-oxidant that is nature's most powerful anti-inflammatory product. Protects all parts of the cells from oxidative damage. If you protect your cells that equals les inflammation, hence less weight gain and more weight loss.
19. Stay out of fluorescent lighting
WHY?
Fluorescent light bulbs emit microwave radiation causing cancer and inflammation. When you interfere with your own tiny electrical currents existing in your body that interferes with your own chemical reactions, hence inflammation and weight gain.
20. Hire an energetic re-balancer and clear out trapped emotions from your chakras
WHY?
Most of us have stress and emotional ups and downs daily. These emotions become trapped in your corresponding chakra. Trapped emotions stem from things like personal power, ego, friendships, sexuality, reproduction, survival, empathy, communication, fear, love and judgment all leave an emotional mark in one or more of your chakras. After decades of psychic sludge trapped in that particular chakra vortex, the corresponding body organ involved with it will not heal or come to full potential. So for example if you are in an unfulfilling relationship that would correspond with your sacral chakra or your belly area making harder to lose weight.
As an aside here is a NO NO list:
NO ARTIFICIAL SWEETENERS
Aspartame: the worst of the worst when it comes to sweeteners (and the reason why diet sodas and colas are just as bad as the regular kind), aspartame is the sweetener with over 92 different health side effects that have been associated with it's consumption including brain tumors, birth defects, diabetes, emotional disorders and epilispsy/seizures and more.
NO MSG
NO DIET SODAS PERIOD NO BUBBLES
NO FAST FOODS OR CHAIN PLACES
NO HFCS
NO WHITE SUGAR OR FLOUR
NO TRANS FATS AND HYDROGENATED
NOTHING FROM A BAG, BOX, CAN OR JAR
These products are manmade and are full of chemicals or just a chemical standing alone. These chemicals are designed to make you hungrier quicker, and fatter faster. They are designed to get you addicted to more food. In England their government restricts the chemical additives of manufactured foods to only 2-4 chemicals.
Someone take a guess at how many different chemicals our Food and Drug Administration or FDA allows manufacturers to add to our foods. 2222
Thank you for visiting us!
In case your not aware of it, T.V., Radio, newspapers, magazines & other traditional, mainstream venues are mostly propaganda bought by drug company's. How? They crept in and bought all or most of the advertising. Then a network owner has to advertise what the drug companys agree with, or they threaten to pull all advertising dollars. Since the majority of dollars rule, your information venue gets tainted with drug company agendas.
That said, I give you links to a E-zine by "Health Keepers". Health Keepers is produced by a woman, Julie Whitman Kline. She owns a college that teaches us how to help people heal themselves without drugs, surgery, or injections. Julie & her writers, produce a magazine each quarter with valuable healthcare freedom information, or I should "The LOSS of Valuable  Health Care Freedom" information.
The links below will take you to the information that will expose what the  drug companys, our government, the American Medical Association are doing "Behind" your backs.  There is also very useful Natural health care information, written by the worlds most informative Natural Paths. Some of the writers are the teaches for the school and have been for decades.  You will be amazed at the information in these pages.  To find out what is happening to your health care freedom in "YOUR" state, just click on the links below:
Table of Contents; under "Departments"; Then "Legislative Updates" 
April 2012:                  http://pubs.royle.com/publication/?i=107864
December 2011:        http://pubs.royle.com/publication/?i=92002
August 2011:              http://www.onlinedigitalpublishing.com/publication/?i=78726
March 2011:               http://digital.ipcprintservices.com/publication/?i=63776 
October 2010:             http://digital.ipcprintservices.com/publication/?i=49743
Winter 2010:               http://digital.ipcprintservices.com/publication/?i=32687 
Fall 2009:                     http://digital.ipcprintservices.com/publication/?i=24606
Summer 2009:            http://digital.ipcprintservices.com/publication/?i=20642
Sping 2009:                  http://digital.ipcprintservices.com/publication/?i=24607
and remember ……….
Only western medicine must be administered at gunpoint!
Of all the systems of medicine that exist around the world (Ayurvedic medicine, Amazon rainforest medicine, Aboriginal medicine, Tibetan medicine, Chinese medicine, etc.), Conventional Western Medicine CWM) is the ONLY system so dangerous, deadly and unwelcomed that it must be administered under the threat of imprisonment.
Thanks for reading this information!
If Colon cleansing and colon hydrotherapy with colonics turns you off, call us up and speak to our nurse about Chi-Herb with Number Two Boost! With these herbs, you can put constipation in permanent remission. Bowel movements are essential to move food, bad bacteria and toxins out. Some people suffer from constipation after taking medications. Others sit at a desk for 8-12 hours per day. Sometimes it's a combination of the air quality, mutated foods, air pollution and eating non-food stuffs (hot pockets). 
Healthy bowel movements help the body process nutrients from the foods we eat. When this happens, it helps the body fuel itself, and allow all the organs to function properly.
About one pound of poop per day needs to be eliminated, minimum!  When we get constipated the whole body suffers. 
Look at this diagram of the intestinal track:
So if you can not figure out "WHY" you are so bloated, gassy and feeling miserable, just call me or Rebecca and we can share all of our success with you too. (919)872.2110
And you do not have to get a colonic to get free from constipation, gas, bloat, lethargy, back pain, headaches, acne, skin rashes ….etc etc                                    
We think it's fantastic you clicked in!
There are several terms that refer to cleansing the organ in your body known as the colon. A colonic;  colon hydrotherapy session;  colon cleansing;  colonic irrigation; colonics; colonic cleansing and high enema. And no matter if you get the therapy in Raleigh, Cary, Durham, Chapel Hill, Greensboro, Winston Salem, Rocky Mount, Wilson, Apex, Burlington, Garner, or Willow Spring or Fayetteville….the main objective of your colonic therapist is not just to get your colon to release all the built up mucous, gas, black sludge, grease, crumbs, parasites, and bloat. It should be to guide you into a very relaxed state of body and mind right when you first walk in the clinic door. Any colonic therapist can get you on a table , perform a colonic session, charge you the money and you exit the building.
It is up to you to choose the therapist that has the knowledge to handle your case. If you had a skin rash you wouldn't hire a ear, nose and throat specialist would you? All colonic therapists are not made equal. When you choose Colonics Raleigh NC and Intestinal Fitness, you are hiring professionals. Anyone can perform a colonic if they have a high school education. Those therapists are very easy to find.
You may want to discover Intestinal Fitness Colonics in Raleigh NC because no one takes your guided cleansing tour more serious than us;
1)The colonic therapist has the passion for foods and nutrition; ( She obtained a degree in Culinary Arts and had a successful career coaching hundreds of people to cook healthfully)
2)The colonic therapist understands how the foods you eat are assimilated into the body on a molecular level; (She has six years formal studies in foods & nutrition;  a degree in Dietetics)
3)The colonic therapist studied colon hydrotherapy  from an instructor that has thirty years experience; graduated the top of her class; the elder instructor loved her new colonic therapist so much, she hired her on to stay and take clients immediately
4)The colonic therapist went on to open a recession proof thriving practice,  Intestinal Fitness, LLC in Raleigh NC which provides services to include; Therapeutic massages by Marcus Tidwell; Facials, body wraps, cold waxing by Michelle Calhoun; Dry far infrared saunas;  Ionic detoxification footbaths; Chiropractic and acupuncture by Dr. Patrick; Nutritional consultants with Dr. Gabrielle Diamante, N.D.
5)The colonic therapist obtained a two year certification as a Certified Natural Health Professional, C.N.H.P.,  which includes the study of Iridology & herbology.
6) The colonic therapist studied to become a Doctor of Naturopathy, N.D.
7) The colonic therapist has just enrolled in a Master Herbalist program.
The reason I tell you the above information is to show you how serious we are about guiding your detoxification program from Beginning to End! If you simply want to come in and receive a colonic, and run right back out the door, that is great we would love to have you. If you want one colonic,  one sauna, one massage, one chiropractic adjustment just to put out a fire, we would love to have you…
However,  on the other hand, if you want to clean your bodies filters, colon , liver, gallbladder, pancreas, kidneys, lungs and skin and take your cleansing to a point where you are so clean and happy like new again,  you should make your appointment with us. We will handle you with kid gloves.
So if you have experienced taking a super nutritional supplement, or herb, or medication, and you feel great for a short while-then it seems to stop working, and you don't feel the same, and you wonder WHY? In metabolizing the same substance over and over again, you can adapt to it, minimizing its effects over time and even depleting your energies in certain areas.
The body must be free to perform thousands of dynamic functions, rather than constantly responding to one specific activity   of the same substance. Maybe the body has healed itself at that level, and its time to move on to something else, but it can't if your still giving it the same treatment. The healing process stops, the therapeutic effects can even be reversed.
Make sure the colonic therapist you choose has the knowledge it takes to make sure you cleanse your organs in the proper format and not some random way like a guessing game.
Thousands of clients tell us they just do not know where to begin. Pick up the phone and call us (919) 872.2110 and we will guide you easily;
or got to: www.IntestinalFitnessLLC.com to learn more about us.
We know it's sweet to be important, but it's important to be sweet!
We are deeply grateful that you joined us today!
Client hired me five and a half  months ago because her abdomen was distended. It hurt her when I touched it.  She had explosive diarrhea, then would not poop for three weeks. It was one of the worst cases I have seen as far as gas and bloat. She is 27 years old, she drank a 6 pack of diet coke per day, but did not know that drinking the diet sugar "ASPARTAME" inside the diet soda may disease all of the internal organs of the body very very quickly.  She is a Physical Therapist and regularly took time off because she had such smelly gas in public. She had bad acne and she was gaining one to two pounds of weight per week. Her breath smelled bad, and her hair was thin. She eats fairly wholesome. Stays away from all restaurants, and eats fruits and veggies daily. Diet soda was her addiction.
HOW DID I HELP HER?
Easy, I administered a colonic. A colonic is an infusion of water into the colon through the rectum. The insertion takes a couple of seconds, and there is no pain. I cover you all up in a big beach towel and blankets so that no part of you is exposed. I sit in a chair and control the very high tech equipment we are all blessed to have.  Small amounts of warm water under a small amount of pressure is infused at a quarter of a cup per minute. The contents of the colon are taken directly out through the disposabvle tubing into the sewer. No mess, no smell. This 6 minute video link will bring you to exactly what a colonic would be like with me; http://www.youtube.com/watch?v=UZnr9gCrDCA.
The results started coming in  immediately after I administered her very first colonic. The woman's gas pressure was too too many pounds per square inch for her frame. I know everyone reading this post knows about your own blood pressure, but very few people know of their "COLONIC PRESSURE" that is at work for you at all times.  Your Intestines build up pressure thats how poop comes down the tube. When you disturb the hormones  using diet sugars your colonic pressure goes hay wire. Plus if you drink small little tiny bubbles that is what you get inside you; small, little, tiny, uncomfortable, miserable, gassy, smelly bubbles.
She had lost the gas and bloat in just under one hour, on her first visit. The second visit, her very bad case of constipation had broke free. I guess that the  huge fecal knot she had bound up in her intestines was causing diarrhea. The third visit, her acne had cleared up. By the fourth visit her hair was shiny and thicker. She was so much happier and smiley. But the symptom she gave me the most thanks for was the embarrassing gas that is totally unacceptable in public. She felt like she beat the CHRONIC FATIGUE SYNDROME  and Irritable Bowel Syndrome her doctor labeled her with and gave her no advice for. He prescribed her some antidepressants.
Are you ready for "TRUTH" news?                                             http://www.realityzone.com/