October 10, 2018 by admin
Filed under Colon Cancer, Colon Cleanse, Colon Hydrotherapy, Colonic, Colonic Irrigation, Constipation, GMO, GMO Food, Misc. Posts, Weight Loss
thanks for surfing to this blog!
Boorish, dishonorable, unethical behaviour, has been vigorously, enthusiastically promoted as the way successful medical clinics conduct themselves.
We , at this clinic,
with bullhorns drawn to our mouths,
proclaim ethical behaviour to be the driving force behind everything we do at Intestinal Fitness, LLC.
thank you for being on this site right now! deep gratitude to you!
After decades of research, my common sense led me to understand  why all of humans are so sick. A few thoughts I have that you can toss about with yourself:
This is what happens to food when we cook it:
Produces compounds toxic to us
increases the load placed on your digestive track
most antioxidants rendered unusable
enzymes all destroyed
proteins become denatured and restructured
vitamins destroyed and damaged
fats become stickier
carbohydrates are changed and A.G.E.'s are produced
Genetically Modified Food to begin with which causes disease right by itself…
Our ancestors had to eat what was available, I don't think they waited for technology to come along and provide machines for cooking.
Also wherever there is big money, expect to hear misinformation……..
Are you full of cooked food sitting in your 37 feet of intestines? The way to figure that one out is to see if you have a big bulge under your belly button area. Yes? Thats poop!
Dr. Gabby
thanks folks we thankful for your every click!
In fact, many scientists now recognize the gut as an external organ, although it is inside our body. This is because the gut is the gateway to the bloodstream and rest of the body. The intestinal barrier, located in the lining of the small intestine, is what prevents harmful substances from entering our body. So where do things go wrong? When that barrier is damaged or compromised, foreign molecules can pass through the barrier to the bloodstream causing the body to launch an immune response to protect itself. This is known as intestinal permeability, or what many refer to as "leaky gut," which is connected to a wide variety of health conditions, including food sensitivities, allergies, and autoimmune diseases. The following is a partial list of conditions related to intestinal permeability:

Rheumatoid Arthritis
Fibromyalgia
Hashimoto's Thyroiditis
Inflammatory Bowel Diseases (Crohn's, Ulcerative Colitis)
Depression, Anxiety, and Mood Disorders
Schizophrenia and other mental health disorders
Multiple Sclerosis
Lupus
Chronic Fatigue Syndrome
Type 1 Diabetes
Asthma and Allergies
Skin Disorders (Acne, Eczema, Psoriasis)
It is also essential that our gut contain a proper balance and wide diversity of beneficial bacteria. These tiny intestinal organisms digest your food, control your appetite and metabolism, orchestrate your immune system, affect your mood, and help determine how your genes are expressed. They play a major role in heart, bone, and brain health along with producing certain nutrients.

Unfortunately, our modern world is full of things that upset the glorious balance of the microbiome, leaving the majority of the population with inadequate beneficial bacteria. The following lists the most common offenders when it comes to gut health:

Medications such as antibiotics, birth control, non-steroidal anti-inflammatory drugs (NSAIDs), anti-depressants, antacids, and more
Chronic stress, which can affect gut permeability and change bacterial composition
Exposure to environmental toxins, especially pesticides, herbicides, heavy metals (lead, mercury, arsenic), and plastics (Bisphenol-A)
Food toxins such as artificial preservatives, colorings, sweeteners, hormones, antibiotics, and chemical additives and in some cases wheat and gluten
Dental toxins including mercury amalgams, root canal toxins, and poor oral hygiene
Inadequate bacterial acquisition at birth (C-section, parents gut health, inadequate breast feeding)
Current health or disease status
The good news is that our intestinal cells can regenerate and the lining can be repaired. In fact, the intestine is the most highly regenerative organ in the body, regenerating its lining every five to seven days. This continual cell renewal allows the lining to withstand the constant wear and tear of breaking down food, absorbing nutrients and eliminating waste. To improve the health of your glorious gut, follow this four-step approach:
Remove the gut offenders listed above as best you can, to minimize cumulative damage.
Restore the health of your digestive system by consuming whole foods rich in enzymes, fiber, and nutrients.
Reintroduce beneficial bacteria by consuming fermented foods (yogurt, sauerkraut, miso, tempeh, kimchi, kombucha, etc. – see last month's newsletter) or by taking a probiotic supplement.
Food toxins such as artificial preservatives, colorings, sweeteners, hormones, antibiotics, and chemical additives – and in some cases wheat and gluten
Repair the intestinal lining with gut-healing foods. Diet has the most powerful influence on gut microbial communities in humans. Choose whole foods rich in polyphenols, which promote growth of prebiotic microbes (food for our good bacteria) and decrease disease-causing bacteria.
If you have ever had a digestive problem, you know how it can negatively affect your health. By fixing problems in the gut, especially with bacterial balance, you may find many other health improvements such as a loss of excess fat, gains in energy, and better overall mood. Never underestimate the power you have to restore health by focusing on your glorious gut.
November 19, 2017 by admin
Filed under BLOATED, Candida Yeast, Cleansing, Coffee Enemas, Colon Cancer, Colon Cleanse, Colon Hydrotherapy, Colonic, Colonic Implants, Colonic Irrigation, Colonic Misconceptions, Constipation, Enema, Gas and Bloating, Mega Colon, What is a Colonic?
Thank you for looking at the colons with me. I don't expect you to learn a lot here just gaze at where colons are in the body. That's it.
So big bellies equal full colons. That's it.
Thanks a bunch for reading this today….
Humans are clusters of energy waves, moving faster and faster all the time. As a human you have agreed to see yourself as solid forms through consensus reality. Everything you do and think, everything you eat and drink, in fact, everything you put into and around your body effects the overall vibration of your entire being. After all, we are energy, and food is energy for us, thus affecting our energy overall.
Therefore, it is quite essential that you pay attention to the vibrations of the foods you eat. When you eat foods that have a high and rapid vibration, you are more able to hold a strong, healthy, exuberant and joyful state. When, on the other hand, you eat foods of a slower, lower frequency, you lower your vibrations and, wonder why you don't feel quite so good that day.
Each of us has a signature vibration; each food you ingest contributes to that vibration. Here are some of the foods for lower vibrations that you should avoid, not just for nutrition and toxin's sakes:
Genetically modified (GMO) food, and conventional food that's been treated with chemicals and pesticides
White rice and flours
Sugars, sweeteners (artificial etc.)
Coffee
Sodas
Alcohol
Meat, fish and poultry
Processed, packaged, canned and fast foods
Unhealthy oils, like canola, cottonseed, margarine, and vegetable oils
Frozen foods
Pasteurized cows milk, yogurt and cheese
Cooked foods, deep fried foods and microwaving food
Colonically yours
October 15, 2016 by admin
Filed under Colon Cleanse, Colon Hydrotherapy, Colonic, Colonic Health Benefits, Colonic Implants, Colonic Irrigation, Colonic Misconceptions, Colonoscopy prep, Constipation, Detox, Enema, Misc. Posts
We appreciate you taking time to navigate this topic. Click the link below and see the history of colonics along with pictures of all the G.I. track disorders. 
COLONIC SESSIONS ARE HELPFUL WITH: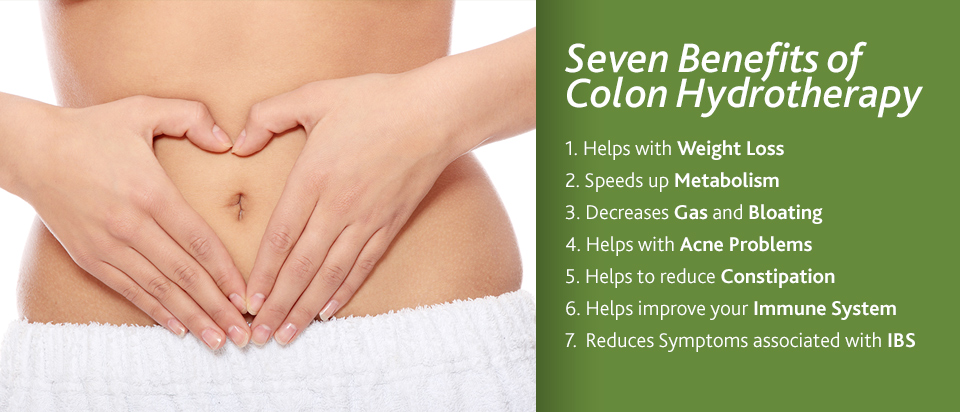 July 17, 2016 by admin
Filed under Colon Cancer, Colon Cleanse, Colon Hydrotherapy, Colonic, Colonic Health Benefits, Colonic Implants, Colonic Irrigation, Colonic Misconceptions, Colonoscopy prep, Constipation
thank you all!
A good cleanse reboots our whole being.
Maintaining endurance and energy levels
Ensuring that your organs, cells and other internal systems function properly
Keeping proper muscle and skin tone
Preventing and relieving constipatio
July 17, 2016 by admin
Filed under BLOATED, Colon Cancer, Colon Cleanse, Colon Hydrotherapy, Colonic, Colonic Health Benefits, Colonic Implants, Colonic Irrigation, Colonic Misconceptions, Constipation, Gas and Bloating
 So glad you clicked in here!
10 Benefits of Colon Cleansing – The how's and why's of colon detox
Colon
cleansing
 can help improve your body's overall health and wellness, and may even reduce your risks for colon cancer.
Makes the digestive system more effective
As the colon is cleansed, it pushes undigested waste through your system, clearing the way for good nutrient absorption. If waste remains in the body for too long, it becomes a breeding ground for bacteria and illness. A clean colon from a colon detox allows undigested waste to pass easily through your system.
Maintains regularity and prevents constipation
Constipation — especially when it's chronic — causes a sluggish digestive response, which in turn leaves waste in the system longer. This increases the likelihood that toxins will be released into the bloodstream. It is also a cause of other illnesses and irritations, such as hemorrhoids and varicose veins.
Increases energy
Releasing the toxins from your body is rejuvenating because it refocuses the energy usually used for forcing waste through your intestines to other parts of your body. People who have undergone colon detoxification say they have better blood circulation, more restful sleep and a boost in energy.
Increases the body's absorption of vitamins and nutrients
A colon that has been cleansed allows only water, vitamins and nutrients to be absorbed into the bloodstream, rather than releasing toxins and bacteria through the colon walls. When the colon is detoxified, it clears the way for essential nutrients to filter into your body unobstructed.
Improves concentration
Poor diet and ineffective vitamin absorption can cause you to become distracted and lose your concentration. The buildup of mucous and toxins in your colon can keep your body from getting what it needs to function, even if you eat a consistently healthy diet. Cleansing the colon with a detox diet can be the difference between feeling alert and not being able to focus. This has far-reaching ramifications for work, your relationships and your overall health.
Kick-starts weight loss
Foods lacking in fiber move through the digestive tract at one-quarter the pace of high-fiber choices. This slow-moving food produces excess mucous that literally sticks to the intestinal walls, weighing the intestinal tract down with pounds of decaying fecal matter.
Colon cleansing has the potential to aid weight loss; some people claim to have lost up to 20 pounds over the course of a month. The average human colon weighs about four pounds empty and can hold up to eight meals' worth of food before digestion finally occurs. A colon cleansing can result in significant weight loss and kick-start your metabolism, as well as refocus your attention on better food choices and whole-body wellness.
Decreases risk of colon cancer
All the toxins that you eat, drink, breathe in and absorb through your skin end up being processed by your gastrointestinal system and liver. If they are not forced from your colon and liver as quickly as possible, they can wreak havoc on your body's systems. By releasing stagnant body waste, you reduce the causes and the risk of polyps, cysts and cancerous growths in your colon and gastrointestinal tract.
Increases fertility
Colon cleansing, as well as increased fiber intake and healthy food choices, improves regularity and helps keep your weight under control. Fat is estrogen-based, and if too much is present, becoming pregnant becomes more difficult. A colon that is weighed down by years of buildup can also press on the uterus and surrounding reproductive organs in women, causing strain.
Colon cleansing rids the body of many chemicals and toxins that affect the egg and sperm. Many naturopaths recommend that both partners undergo colon cleansing before attempting pregnancy.
Maintains pH balance in the bloodstream
Foods that cause colon blockages are acid-forming — particularly high-protein diets without enough fiber. This leads to general malaise in the body. The tissue of the colon eventually becomes diseased and inflamed, reducing the colon's ability to do its job, which is to allow only water, minerals and vitamins to pass into the bloodstream. If yeasts, molds, fungus, bacteria, parasites or fecal material enter the bloodstream and connected tissue, the body's pH will be thrown out of balance.
Improves whole-body well-being
Ridding the colon of waste and toxins by releasing layers of colon buildup can lead to feelings of lightness, strength and overall good health.
Thank you for visiting Us!
Take a look at your house AC/HVAC filters after only one month. Filthy dirty with the stuff you're breathing through your body filters each day. The following body parts get dirty, where most all disease starts from…..
Clean your filters…..