Thank you gentlemen and gentlewomen !
Monsanto  
https://www.google.com/search?q=monsanto&espv=2&biw=1280&bih=631&tbm=isch&source=lnms&sa=X&ei=U2QpVKsfocbxAZCNgKgE&ved=0CAcQ_AUoAg
poisons our food because they're also pharmaceutical producers. You eat their shit, you get sick, you buy their drugs, that's as simple as I can make it for you.
If you want to be one of the ones standing, not in a wheelchair, get very familiar with this site;
http://www.nongmoproject.org/find-non-gmo/search-participating-products/browse-products-by-brand/
and this one
Oh, and when you do get sick as a direct result from eating carcinogenic GMO foods from Monsanto group, you go to sue the company for producing foods that immediately cause tumors, you can't because they quietly passed the
"MONSANTO PROTECTION ACT".
http://www.huffingtonpost.com/2013/09/11/monsanto-protection-act-extension_n_3908249.html
You probably don't know that, so you bring them to court and guess who you will find as your judge?
http://theprogressivecynic.com/2013/07/15/justice-clarence-thomas-and-monsanto/
This fat  cat has been waiting for you. He is solidly married and sleeps together with the Monsanto group as he is old pals with them. He protected them as their lawyer. Do you think there is a tiny, teeny, weeny, slight conflict of interest there folks?
Find retailers that keep that garbage out of the store shelves
http://www.nongmoproject.org/find-non-gmo/search-retailer-endorsers/
Thank you folks for finding our web site
The following is a statement from a Medical Doctor in the Netherlands and it is perfect to help you understand colonics.
Harmful agents are absorbed from deposits in the large intestine, overloading the immune-system and potentially causing a variety of primarily chronic disorders. Significant detoxification can be achieved with intensive colonics and the natural balance of the body can be improved. The treatment effectively removes deposited stool from the large intestine and is indicated in cases of habitual constipation, distension and other digestive problems, as well as in eczema, psoriasis, allergies, fatigue, migraines and arthritis. During the treatment the patient lies on their back, and single-use equipment sprays varying-temperatures of water into the large intestine through the anus. The alternating usage of hot and cold water trains the muscles of the large intestine and improves circulation. The treatment is pain-free. This therapy is excellent for strengthening the immune system, for detoxifying the body, for restoring normal digestion and absorption, and, as a side benefit, for losing unnecessary weight.
Dr. Marianna Horváth
Chief physician
THANKS FOLKS 
 This is one of the most powerful anti-aging processes you can do.
   We know that the air you breathe, the water you drink, the food you eat are polluted and contain toxic chemicals. Even the food we take in is loaded with preservatives, colorings and additives. All of us face these toxins in our everyday life and after taking them in (with every breath, every bite, and every drink) your body starts to not function properly. You can't sleep, you gain weight, you are bloated and you are constipated, really your body wasn't made to function with all these toxins. Think of a small baby, who has not been exposed to toxic pollutants. They eat, then right afterwards they release the waste from what they have eaten. As we get older that isn't how it works for many people; many people eat and maybe they are not able to release the waste for 2 or 3 or 4 days or even a week. You have to ask yourself, where is this waste from 8, 10, 12 meals hiding? The food has been taken into your body but the waste hasn't been released so it has to be somewhere.
It IS somewhere;
 it is stuck in what we call the"garbage pail of the body," the colon. And just like a trash can where the trash sits for 5 days or 7 days itstinks and becomes rotten. After 2 weeks, you might find worms growing. And a month later there will be bacteria, mold and fungus growing as it breaks down.
This is what happens to your body; when you take in pollutants and eat white flour foods, sugars highly refined foods, animal fats, packaged foods – all of the things the body was not designed to break down and easily eliminate are stored in the tissue and fat cells throughout your body and this toxic build-up needs to be released by the 5 organs of elimination and detoxification which doesn't easily happen without a deep detoxifying cleanse of your entire system.
Ultimately this toxic waste gets dumped and accumulates in your garbage pail. Over time as you poison yourself, (called auto-intoxification) you create dis-ease and this disease generallyhits your weakest link. For some it is inflammation in the joints and arthritis, others have respiratory challenges; frequent colds and bronchitis. Others feel sluggish and tired and arefuzzy in their thinking. What a case for detoxification!
  At Intestinal Fitness, LLC  we don't really focus on the symptoms or the effect of the toxic condition, we focus on detoxifying and cleaning out the garbage pail Our job is to remove toxic waste from your colon and the other organs of elimination like the liver and the kidneys. Your body responds quickly; once you are detoxed and you have cleaned out, you automatically start pumping clean blood, through the circulatory system and your lymphatic system carries in the nutrition and pumps out the waste as it was designed to do…all over the body to every one of the 75 trillion cells that make up YOU.
And when you are detoxified, verything about you starts to regenerate and rejuvenate naturally just by focusing on removing the poisons in the body.
T

his is one of the most powerful anti-aging processes you can do.
June 4, 2014 by admin
Filed under A Colonic is the BEST immune support in the world, CANCER, Candida Yeast No Problem With Colonics, Cleansing Goes MAIN STREAM, Colon Cancer, COLON CLEANSE, Colon Cleanse Raleigh NC, Colon Hydrotherapy, Colonic, Colonic Implants, Colonic Irrigation, Colonoscopy prep, DETOX HERBS, DETOX NOW WHILE YOU ARE STILL ABLE, Gentically Modified Food Stuff, Gout, Government healthCare is a Failure, Help with Certain Symptoms with Colonic Irrigation, Herbs To Purge Naturally No Chemicals, IMPORTANT WEB SITES, Liver Cleanse, Lose Gas and Bloat Using Colonics, Lose Weight Utilizing Colonics, Lose Weight with Dry Far Infrared Sauna, Mega Colon, MERCURY POSIONING BEING PLACED IN CHILDRENS HEADS, Misconceptions about my colonic clinic and the colonic therapy, Monopoly Medicine, NATURAL CANCER CURES, Nausea healed Forever, NUTRITION TIPS, PROTEIN POWDER MYTHS, Quack Pot Watch, Saint Andreas Moritz Tribute, Sharing Recipes, Soda and The lethal effects on your guts, Soda is not a very good idea, TOXIC CHEMICALS FROM WEATHER CONTROL, Toxic SLS & SLES IN Shampoo, TOXICITY, Vaccines are hopeless, WATER pH EXPOSED, WEIGHT LOSS, What is a Colonic?, Where do Toxins Come From?, Why do I need a Colon Cleanse With Colonics & Colon Hydrotherapy Irrigation?
Hi folks and thank you!
  People,     if you are confused about what Complementary, Alternative,  safe,  natural,  detoxification therapy to use to clean up with, just ask a white coat (you walk in a hospital/docs office what do you see? a sea of white coats right?). Whatever the white coat tells you, it's the exact opposite! 
So for example, you ask a white coat Doctor,  Nurse,  PA  main stream, traditional, allopathic, conventional, injections, drugs and surgery person ; Should I do colonics?  and the white coat response is:  "why would you do that? or you don't need to detoxify, your body can do it on it's own, or they are all quacks or something at all the least bit discouraging..here is what I suggest you do….
RUN, do not walk to whatever it is they discouraged you from doing. It's that easy folks.
White Coat credibility is in the CAN . The mainstream, medical, conventional ,  injections, drugs and surgery person are puppets run by the Legal Drug Cartels (PHAT PHARMA).  The drug Lords
 have BILLIONS of dollars to make.
 You interfere with that plan when you keep 30 feet of intestines clean.  
You interfere with profits when you detoxify your body.  
I was a main stream puppet for 19 years.
 White Coat! But I switched to Naturopathy and cleansing because of the gross negligence on behalf of WHITE COAT syndrome. 
Been in practice for 10 years now as a colonic therapist/ Naturopathic Doctor.
We would love to walk hand in hand with white coats but through ignorance and greed they refuse to accept us. (Most Of Them)
We 're not talking about the good guys here, the ones that slap you back together in crisis. 
Traditional Chinese Medicine (TCM) is around 5, 000 years old, and Ayurvedic is about 5, 000 years old. Together, thats 10,000 years experience with enemas and colonics that have worked. Now 167 years ago WHITE COATS American Medical Association comes along and knows it all?
hmmmmm…… I don't know…..
Natural Health Suppressed for the last 167 years: watch this!http://www.thrivemovement.com/medical-establishment
The following web site is a great place to start to see for yourself the suppression going on:
you are going to be shocked at this:
http://www.youtube.com/watch?v=aWRzikJ3iso
you won't belive this 2 minute video:
http://www.youtube.com/watch?v=G4XZzhJfHFE
Folks I know both sides.  Suppression Of Natural Health Modalities link here:
http://www.thrivemovement.com/suppression-natural-remedies
Thank you!  
This is a beautiful lady that speaks so calmly but you can feel her message of pain and urgency in just one minute:
http://www.youtube.com/watch?v=aWRzikJ3iso
The current health care system took root around the turn of the century when the AMA, Rockefeller Foundation, and Carnegie Foundation forged a partnership.  They put their money into drug-based research and made that the main focus of "healthcare". Since then, the Rockefellers and other prominent banking elite have been able to control and profit enormously from the drug industry. The AMA – which is the largest association of physicians in the U.S. – enforces the drug-treatment paradigm by heavily lobbying Congress and publishing one of the most influential journals,JAMA, which is largely funded by pharmaceutical advertisers.  It is also engaged in suppressing alternative health treatments, such as the Royal Rife cancer cure.
Here's a timeline detailing the suppression of alternative cancer cures and the Rockefeller Foundation's role in shaping the healthcare industry:
1901 – Rockefeller Institute for Medical Research OpensBased out of New York, this became one of the most "richly endowed" research centers. By 1928, John D. Rockefeller had given it $65 million in endowment funds.[1] This later became Rockefeller University.
1910 – Flexner Report Published, Establishes New Standards For Medical Education
This highly influential report, sponsored by the Rockefeller's and Carnegie Foundation, evaluated medical schools and restructured American medical education. It set up a new standard so that schools could only be accredited if they showed an emphasis in drug based research and treatment.  Homeopathy and other alternative approaches to medicine were no longer recognized. Abraham Flexner, author of the report, was on the staff of the Carnegie Foundation for the Advancement of Teaching.  In 1910, 161 medical schools existed. By 1919, there were only 81 left.[2]
1913 – Rockefeller Foundation Establishes the International Health CommissionThis laid the foundation for how health and science research and development were to be conducted. Many of today's health institutions were modeled on this commission's practices, policies, and research processes such as the UN's World Health Organization, the U.S. Government's National Science Foundation, and the National Institute of Health.
1918 – Public Health Becomes Rockefeller Foundation's Top Priority
"The Foundation identifies public health education as one of its principal areas of interest, and builds and endows the first school of public health at Johns Hopkins University."
1921 – Rockefeller Foundation Contributes $357 million [3] to Medical Schools Around the World
This spreads the drug-based approach to the most prominent schools around the world.
1922 – Dr. Royal Raymond Rife Begins Cancer Research
In the 1920s, Dr. Rife – a brilliant bacteriologist and former student of John Hopkins University – began researching and developing an alternative cancer cure.
1924 – Morris Fishbein Becomes Primary Editor of JAMA
JAMA, the Journal of the American Medical Association, is one of the most influential medical journals in the world. As head of JAMA, Morris Fishbein, became one of most powerful, prominent men in medicine during the time. He transformed the industry into a money-making machine and used negative campaigns to squash competitors. He was one of the key figures to suppress Dr. Royal Rife's cancer cure.
1924 – Harry Hoxsey Founds First Cancer Clinic in Taylorville, Illinois
Harry Hoxsey offers a natural herbal formula to cure cancer that thousands claim to have worked. This is the first of 17 clinics to eventually open.
1926 – JAMA Publishes First Tirade Against Hoxsey
The article scares doctors and researchers from being associated with Hoxsey.
1927 – John D. Rockefeller Jr. Gave the First of his Annual $60,000 Contribution to Memorial (Sloan-Kettering) Cancer Center
1932 – Dr. Rife Develops Cancer Cure
Dr. Rife developed a machine that could neutralize disease-causing micro-organisms, including cancer cells, with the use of frequencies.
1932 - Director of Rockefeller Institute, Dr. Thomas Rivers, Denies Success of Rife Cancer Treatment
In 1932, Dr. Arthur Kendall, director of Medical Research at Northwestern University, spoke before the Association of American Physicians at Johns Hopkins University about the preliminary successes with Rife's methods and treatments of cancer. Dr. Thomas Rivers, virologist and bacteriologist, director of theRockefeller Institute (a primary source of funding for medical research) and Dr. Hans Zinsser, called Kendall a liar to his face in front of the assembled crowd.[4]
1934 -  Rife's Treatment Cures 16 Terminally Ill Cancer Patients

In 1934 at the Scripps Institute in La Jolla, Southern California, Rife conducted clinical trials on 16 terminally ill cancer patients, and successfully cured all of them.  A team of medical specialists – including Dr. Milbank Johnson, Chairman of the Special Medical Research Committee of USC; George Fischer of the NY Children's Hospital; and Dr. Wayland Morrison, the chief medical officer of the Santa Fe Railway – confirmed the findings.
1938 – The AMA Indicts Rife for Fraudulent Medical Practices
1939 – Philip Hoyland Files Suit Against Royal Rife's Company, the Beam Ray Corporation
Philip Hoyland admitted to accepting a $10,000 bribe from Hahn Realty Group (AMA Agents) to sue the Beam Ray Corporation.
1939 – New Memorial Sloan-Kettering Cancer Center Opens – John D. Rockefeller donated the land and provided $3 million of funding
1940s – Rife's Work Is Destroyed & Continues to be Suppressed
1949 – Hoxsey Sues JAMA and Editors for Libel and Slander – Hoxsey Wins
1949 – Morris Fishbein is Ousted from AMA
1956 – FDA Issues Public Warning About Hoxsey Cancer Treatment
1960 – Hoxsey Method Banned in U.S. by the FDA
1960 – Laurance Rockefeller Serves as Chairman of Memorial Sloan-Kettering Cancer Center in New York from 1960-1982
This center is one of the most influential cancer centers in the world. During WWII it performed some of the first experiments applying chemical warfare weapons to the "treatment of cancer", which evolved into chemotherapy.
1963 – Bio-Medical (Hoxsey) Center Opens in Tijuana, Mexico
It continues to operate and claims an 80% success rate.
1971 – President Nixon Declares a "War on Cancer"
Signs $1.6 billion law.
1977 – Sloan-Kettering Rejects Laetrile (derived from Apricot Kernels) as Effective Cancer Treatment
This is despite positive results from Sloan-Kettering's own famous researcher, Kanematsu Suguira.   In November of 1977 Dr. Ralph Moss, Assistant Director of public affairs at Sloan-Kettering, held a press-conference about the success and potential of laetrile, despite the centers desire to cover it up. Ralph Moss was fired the next day for "failing to carry out the most basic job responsibilities."
1991 – Rockefeller Foundation Helps Start Children's Vaccine Initiative
The Foundation joins with the United Nations Development Programme, UNICEF, WHO and the World Bank to form the Children's Vaccine Initiative (CVI).
2010 – More Than Half a Million Americans Die of Cancer
This website will try to keep you "AWAKE" as to what is going on behind your little T.V.'s, your newspapers, your magazines and your radio because I hope you all know those devices are used as  "SMOKE AND MIRRORS"?
http://www.thrivemovement.com/     
Thank you!
In this toxin filled, nutritionally deficient, stress dominated system all decreases hormone and enzyme production. Most general Medical Doctors are symptom chasing. If you are not hiring them as much because all they do is symptom chase,  then their answer to this drop in business is to order more tests, see more patients, and spend less time with the patient. So if you thought they symptom chased before get ready for the ride of your life!
Get off the merry go around that isn't so merry and start to detox. Call anyone just start to take the toxic load off and you will improve.
Go to this site and then click on "REFERRALS".
Detoxification – An Essential Process
Detoxification is a buzzword we hear more and more recently, especially in Complementary and Alternative Medicine circles. But what does detoxification actually mean and is it even worth your time to think about it?
Well yes, it probably is because the world we live in is so filled with toxicants (commonly called "toxins") that even the strongest and healthiest among us are being assaulted every day with chemicals that our bodies must cope with (detoxify and remove) in order for us to survive. If our load of poisons is more than we (or each of our particular genetics) can handle, then this toxic exposure will eventually make us sick or could eventually even kill us. Our bodies, through normal operation, produce a base load of toxins that we need to process to keep functioning. We do have a capacity to detoxify more, but even if you happen to be extraordinarily careful and try to avoid every toxin in the world, there will come a time when you are accidentally exposed to a dose of some kind of toxic substance. Your body must detoxify all of these toxins in order for you to maintain your health.
Fortunately, our bodies have ways of handling foreign contaminants, primarily through the liver and kidneys. Clearing out toxic substances is known as detoxification, and our bodies are pretty good at it most of the time. But, there are some cases when your body needs just a little bit of help.
How can we help our bodies to detoxify and is it worth the bother?
We, as humans, evolved to be able to handle certain problematic substances that are in our environment or diet (infections, injury, animal bites, and poisonous plants were the primary toxins we dealt with for most of our evolution).
Humans eventually started mining our own toxic substances. A good early example of this is the mining and using heavy metals like lead. During the Roman Empire people used make up and even "health" supplements created using lead, which caused significant illness in those exposed. Humans also experimented with toxic substances using them for manufacturing (e.g. using mercury to make men's top-hats, leading to the now familiar description of top-hat manufacturers as "Mad as a Hatter").
But the last 100 – 200 years has seen an explosion in the development and use of new and particularly dangerous toxic substances. This is primarily because chemistry has matured and humans learned how to assemble all kinds of "useful" chemicals. Unfortunately, many of these chemicals are also very toxic and often make us sick. From pesticides to industrial waste products, the amount of toxins we are exposed to is staggering.
HOW DOES YOUR BODY REMOVE TOXINS?
To simplify a very complicated subject, there are only a few ways our body can actually remove toxins from itself. The number 1 and 2 ways are pretty obvious (i.e. urination and defecation). Of course, If you've ever been sick with a stomach "bug", you are probably well acquainted with another, more extreme route — nausea and vomiting clears out your stomach contents very quickly taking any toxins you ingested along with it. Another, less expected, way of removing toxins from our body is sweating, where the moisture and salts in our skin literally "pull" the toxins out with them. Another method of toxin removal, you may not give much thought to, is respiration. A good example of this is that every minute we breathe out excess carbon dioxide (a toxin for us).
Finally, if your body can't get rid of a toxin through any of these means, it will simply wall off the offending material. The problem with this last method is that the inflammation needed to wall of a toxic substance (let's say asbestos) leads to the formation of very fibrous scar tissue. This scar tissue often is created exactly where you don't want it, like your lungs or your arteries. This is why there was so much litigation around asbestos exposure. The body would wall off the dangerous asbestos molecules causing severe lung scarring (asbestosis) because our bodies cannot "detoxify" asbestos in any other way.
FAT AND WATER
The liver processes fat soluble toxins
so that they can be eliminated
through your intestines as bile.
Toxins fall into two broad categories, fat soluble and water soluble. This means that a given chemical can only really be stored in fat or water, but usually not both. For instance, vitamins A, D, E, and K are fat soluble, so they are stored in fat cells in your body, the liver specifically. While vitamins are not toxins, it illustrates how things can be stored and transported in the body. Because they need fat to make their way into your body, this is why many supplements are supposed to be taken with a meal.
The body uses two different approaches to remove toxins from our bodies:
Fat soluble toxins are removed by the liver through the production of bile (a digestive enzyme the liver produces) and releases it into the small intestine during digestion. Once there, it is absorbed by the fiber in your diet, and safely pushed through until you deposit it in the toilet. This is one of the big reasons why fiber is so important in your diet; without enough of it, the toxins can be reabsorbed through your intestine into your body and must be processed out again.
The kidney removes water
soluble toxins.
Water soluble toxins have a number of different ways of being detoxified and removed by our bodies. After the liver processes them into (slightly) safer versions, the "tagged" toxins travel through your bloodstream until they reach the kidneys. Once in the kidneys, the chemical tag the liver put on the toxin is recognized by the cells there and the tagged toxins are moved through to the bladder, where you can pee them out safely. This is why urine tests are so useful for recognizing imbalances in chemicals in your body, as many chemicals are removed this way if they are in excess or there is some other problem. This is also why urine tests are used to detect the "metabolites" (chemicals produced in breaking down a substance) of drugs, legal or otherwise.
THE LIVER
The "go to" organ for dealing with things that don't belong in your body is the liver. Your liver plays a number of crucial roles in your system especially the immune system, well as regulating levels of a large number of hormones and other chemicals (e.g. vitamins, blood sugar levels) that, if out of balance, could be considered toxic. Your liver is also one of the main places that medications and other drugs are broken down so that they can be removed from your body. On top of all this, the liver both aids in digestion (by producing bile to help digest fats) and sends out processed waste for removal. There are two major steps in processing toxins.
The cytochrome system is an extremely complex set of enzymes that perform a remarkable number of reactions in virtually every cell in your body. When your liver encounters a toxin, the cytochrome system is the first line of defense that springs into action. There are about 100 enzymes involved in this process, and they essentially convert anything they can into water-soluble chemicals that can be removed by (primarily) your kidneys.
The major detox pathways and what supports them.
Anything the cytochrome enzymes can't convert into specifically a water-soluble chemical is transformed into a type called a reactive form, called a "free radical". This means that an oxygen atom is tagged onto it, making it potentially more harmful, except that it then becomes a target for anti-oxidants in your body.
Glutathione
One of the most powerful anti-oxidants found in the body is a chemical called glutathione. Glutathione is found in our diet and also naturally produced by your body. It is found in fruits, vegetables, fish, and meat. It is a pretty simple compound made up of three amino acids — cysteine, glutamic acid, and glycine. Even though it is found in a number of foods, supplementing glutathione directly does not appear to be effective, since the body can't absorb it very well in the intestines. You can, however, supplement the levels of the amino acids it is made up of (cysteine, glutamic acid, and glycine) to allow your body to produce more as it is needed. Glutathione is the main way that our bodies remove heavy metals and many fat-soluble toxins, by binding with them and making the water-soluble for the kidney to remove.
Glutathione is also one of the major ways your body processes toxins after the cytochrome system is done working on them. The cytochrome system generates a lot of "free radicals" (chemicals that can cause DNA damage as well as physical damage to many cells in the body) when processing toxins. In order to "fix" these free radicals generated from the cytochrome system, glutathione is essential. If your body runs out of glutathione because of a particularly strong or chronic exposure to toxins, these dangerous forms of toxins (free radicals) can cause significant damage.
WHAT CAN I DO TO REMOVE TOXINS FROM MY BODY?
While there are many things you can do to increase toxin removal, there are some small changes that make a big difference.
First, avoid taking in the toxins in to your body to begin with: For example, eating organic food instead of conventionally farmed foods can remove almost all synthetic pesticides getting into your body. This alone greatly reduces the toxic load that your body must process, not to mention avoiding the nasty side effects of pesticides overall. Other important toxins to avoid are Volatile Organic Compounds (VOCs) like formaldehyde.
Second, eat more fiber: Since fiber helps to remove fat soluble toxins in your intestines (released as bile) while also preventing them from being reabsorbed, increasing your fiber intake can reduce the burden of having to reprocess the toxins that don't get a chance to clear and are reabsorbed.
Charcoal appears to act in a similar fashion to fiber in this regard, absorbing and binding with potentially dangerous chemicals and poisons; this is why when someone accidentally ingests a poison, doctors may recommend taking activated charcoal, as it helps neutralize many different kinds of poisons. Products like Takesumi Supreme (finely ground carbonized bamboo) do this remarkably well, and are a safe way that I use to help my body remove potential toxins. Originally developed and sold in Japan, Takesumi can be used in water or even added to baked goods as a source of fiber, as many Japanese bakeries do. Takesumi is an extremely gentle and safe method for removing excessive heavy metals. It can be particularly helpful in removing mercury in people who have problems associated with excessive mercury buildup in their bodies.
Supplements
In addition to these changes, you could also consider taking some supplements to support the systems that work to keep you toxin-free. The best supplements to help your body remove toxins are those that act as anti-oxidants or in some way enhance the production of glutathione. These include:
Vitamin C
Vitamin E
Alpha-lipoic acid (ALA)
Selenium (found in onions, broccoli, and Brazil nuts)
S-adenosylmethione (SAMe)
amino acids like cysteine, glutamic acid, and glycine (which make up glutathione)
Milk Thistle (helps produce glutathione)
CONCLUSION
It is important to remember that the toxins in your environment are not the only ones that your body processes. There are waste products in your metabolism that need to be processed out as well, such as hormones, ammonia (from breaking down proteins), and many others. In addition, the liver processes certain things we eat in exactly the same way as toxins, such as ethanol (from alcoholic beverages) and fructose (half of ordinary table sugar). but it can also degrade the performance of the liver removing other toxins.
When you add the load of environmental toxins, your body's natural detoxification system can easily get overwhelmed. Knowing how to decrease your toxic load and increase your body's ability to replenish its defenses is a key part of maintaining optimum health
Thank you everyone
for stopping by!
LOOK AT THIS STUFF THAT IS IN YOUR SMALL INTESTINE!
https://www.google.com/search?q=pictures+of+mucoid+plaque&espv=210&es_sm=122&tbm=isch&tbo=u&source=univ&sa=X&ei=S-sZU_yTNuad0QH2noDgBw&ved=0CCYQsAQ&biw=1600&bih=775
"At least 90% of all Diseases stem from internal pollution!" 

Dr Smokey Santillo
founder of Juice Plus.
Answer by Richard Anderson, N.D., N.M.D. "The intestines can store a vast amount of partially digested, putrefying matter (as well as drugs and other toxic chemicals)—for decades even. Some intestines, when autopsied, have weighed up to 40 pounds and were distended to a diameter of 12 inches with only a pencil-thin channel through which the feces could move. That 40 pounds was due to caked layers of encrusted mucus mixed with fecal matter, bizarrely resembling hardened blackish-green truck tire rubber or an old piece of dried rawhide. I call this mucoid plaque. This mucoid plaque, when it is removed during an intensive colon cleanse, often shows ropelike twists, striations, overlaps, folds, creases—the shape and texture of the intestinal wall. Mucoid plaque may vary considerably, depending on the chemical conditions in a person's intestines. It may be hard and brittle; it may be firm and thick; tough, wet, and rubbery; soft, thick, and mucoid; or soft, transparent, and thin; it can range in color from light brown, black, or greenish-black to yellow or grey, and sometimes emits an intensely foul odor. I coined the term mucoid plaque, meaning a film of mucus, to describe the unhealthy accumulation of abnormal mucous matter on the walls of the intestines.
Conventional medicine knows this as a layering of mucin or glycoproteins (made up of 20 amino acids and 50% carbohydrates) which are naturally and appropriately secreted by intestines as protection from acids and toxins. However, mucoid plaque is different from the mucosal lining (mucosa) of the gastrointestinal tract. The latter acts as a necessary buffer to the gastrointestinal wall and as a lubricant for peristalsis; it is also responsible for the secretion of mucins which comprise mucoid plaque. The cells of the outermost layer of the mucosa (the epithelium) stay fresh and vital, renewing themselves every four to seven days. It sounds paradoxical, but medical research indicates that mucoid plaque is a normal selfdefense measure—natural protection from unnatural toxins. Evidence indicates that mucoid plaque, with the possible exception of that found in the stomach, is unnatural to the healthy body and is found only after the body has moved away from perfect health and into a diseased state. The theory goes that if you were completely healthy, your system would produce no mucoid plaque because it wouldn't need to. When the body has been chronically subjected to (or put under attack by) drugs (such as aspirin or alcohol), salt, heavy metals (including dental mercury), toxic chemicals, parasites, harmful microbes and their toxins, and circulating immune complexes (immune cells locked onto undigested particles or foreign substances in the bloodstream), it produces mucoid plaque to protect itself.
The trouble is once the mucoid plaque is created, for whatever biologically important reason, it is not routinely excreted from the intestines. Instead it lodges in the numerous folds and crevices of this large organ and can remain there for many years. Over time, the mucoid plaque grows thicker, firmer, and more widespread—colonizing, as it were, the tennis court–sized interior of the intestines. Old feces adhere to the plaque and are not removed during a normal bowel motion. The plaque slows down intestinal action, both waste excretion and nutrient absorption. It can harbor pathogens, including bacteria and parasites, which actually hide underneath the plaque; it may block the normal outflow of lymph and mucin drainage. It binds toxins to itself and contributes to bowel toxicity, slowly emitting toxins into the bloodstream. Finally, plaque creates a friendly environment for disease, in some cases for colon cancer and gastric carcinomas. Gradually your immune system is weakened as the chronically toxic bowel environment destroys useful bacteria. Your liver becomes overburdened by the unprocessed intestinal toxins, and nerve meridian points in the intestines related to hundreds of other parts of the body are compromised. A toxic bowel results in toxic blood and lymph, toxic organs and cells, and toxic function.
The bowel "feeds" every organ, tissue, and cell in our bodies, so when the quality of feeding from the digestive system is contaminated or of poor quality, the cells and organs elsewhere in the body will be compromised and grow sluggish and inefficient. So while mucoid plaque is "natural" in that the intestines produce it, it is most unnatural in that the presence of a large amount of it indicates a high degree of intestinal ill health. When the intestines are ill, you will be ill.
THANK YOU EVERYONE THAT CLICKED INTO THIS INFORMATIONAL SITE! 
I just love, love, love this Doctor's Information he is so amazing but so simple, enjoy!
Charles Partito N.D. / Raw Nutritionist   of   Ejuva
WATER 
Is a very controversial subject in the world of Raw. Some say it must be very alkaline (high pH), others say it must be from a spring, and for me, there is yet another type of water that is preferred.
Which water is best to consume? A great question considering water is used for every metabolic function in the human body. We cannot live long without water; in fact, "NO" life is possible without water.  
Water is NOT a nutrient, it is composed of two hydrogen atoms and one oxygen atom. Water helps the body carry in nutrients and carry out waste. It is also used to regulate body tempreture through sweat when we overheat, and if our inner tissues are too warm the blood will absorb more fluid (water) to help cool things down. Water is a major part of our secretions too e.g. tears, saliva, pancreatic 
enzymes, mucus, hormones, etc.
Water is obtained by the body through three possible sources:
1. Food consumtion (raw is 70-90% water). From this process the average human will receive the major portion of his/her daily requirements. 
2. The human body itself is a water manufacturing machine. This occurs through the oxidation of food. During this process the food is broken down in the body and is converted into energy and structure for the body. Hydrogen is created as a by-product of this process. When the oxygen we breathcombines with the hydrogen, it creates pure water. This is where the balance of our daily water intake should come from.
3. Though 1 and 2 should be all you need (forever ending the "what is the best water" debate)there is of course,the direct intake of water.
However, I believe man was NOT designed to drink fluids after weaning age! Hang with me here for a minute and ask yourself these questions: 
A. Was man designed with a beak or a snout with which to suck up water from a stream, lake, or river?  
B. Was man designed to take in water with his head bent forward?
C. Does man have a tongue designed for lapping up water?  
D. Was man designed with an apparatus to place water in until he became thirsty (like a hump, cup, or canteen)?  
E. Was man originally given a juicer to juice solids (no Champion juicers in the Garden of Eden/nature)?
F. Cupping your hands together at the rivers edge is very inefficient, as most of the water never reaches your mouth.  
Approximately 2 and 1/2 quarts of pure water are lost from the average human body daily.
Approximately 2 and 1/2 quarts of pure water are taken in daily under "normal","healthy", circumstances. This through the consumption of uncooked plants, and the oxidation of real foods.
Please do not be fooled by those who claim you divide your weight with whatever number to determine your body's need for water. There is no predetermined amount of water one should consume. Simply drink only when you are thirsty! Too much water leads to something called Polyuria. Polyuria taxes your Kidneys and leaches minerals from your body. On the flip side, 
 not enough water will dehydrate you.
Should we be cooked, sick, experiencing a heat wave, or exercising; more water is needed. Those that tout spring water as healthy claim that the only sources of water for early humans were spring and rain waters. My colleges and I believe that rain, rivers,
and streams were likely NOT our main source of water until we became cooked and invented tools. Rather, we believe food was the primary source of water while springs and rivers were more of a water supplement. Who really knows for sure, as none of us were there. The reality is if you lived in a dessert you were probably were looking for an outside source of water. While those who lived in a rain forest or a wet climate food in and of itself was likely enough water most of the time.
Types of water include: tap, reverse osmosis, distilled, rain, well, spring, mineral, purified, filtered, among others. I cannot break them all down today, but we will concentrate on spring and high alkaline waters as I have received many emails from raw leaders stating that these type waters are the best. I disagree with those assertions, and this is why: 
 STARTING WITH THE FIRST MYTH

It is widely believed due to the fact that raw food leaders have done such a great job promoting the falsity that all spring waters are alkaline, and all reverse osmosis waters are acidic. I assure you there are very acidic spring waters and very alkaline reverse osmosis waters. It all depends on the pH of the original source of the water.

A quote by free drinking water:

"We have done many laboratory tests on the effects of RO systems on water pH composition. The Southern California water sources used in our tests were slightly alkaline with an average pre-treatment rating of 8.12 pH. After filtration through the RO systems, the resulting pH averaged 8.06. Our results confirmed the conclusions of others in the scientific community -the reverse osmosis treatment process has a very minimal effect on water pH chemistry."

One of the things I never hear from those talking about water is what happens to the pH after water enters the human body. I mean who really cares what's going on with water while it's sitting in a glass? When water hits the inside of the human body major changes 
occur and to me this is what really matters. The question is, "Does it really matter if water has a high or low pH prior to being ingested?" According to former Super Model Carol Alt it does. I saw Carol Alt on her TV program about raw food a couple of days ago. She was discussing the importance of alkaline or high pH water. This because she said inflammation is the cause of all diseases and inflammation is caused by being too acidic. This is why she believes we need to drink waters that are high in pH. Insisting these high alkaline waters will make our acidic bodies more alkaline. I am sure that makes perfect sense to many people. Unfortunately, it doesn't make much sense to me. Here's why…
How can I say something so silly, the pH of water while on the outside of our body must be important, right? Well, not really. You see, if water is too acidic, or for that matter too alkaline, the human body will not allow the water into its cells. The body will first buffer either acidic or alkaline waters to the perfect pH of 7.365 before it will allow the water into our cells.
Here's an excerpt of what a water Guru had to say about water pH after the water enters the body:
"Water pH levels will automatically change when it is ingested and comes into contact with the food in your stomach (Wise, 2011).  Even on an empty stomach, your stomach acid alone is already several times more acidic than RO water (pH 6-8) with a pH level of 2 (Wise, 2011).  The human body regulates pH levels constantly to find balance and equilibrium. Therefore under normal conditions it will always maintain a neutral 7.4 pH balance (Wise, 2011). The healthy body is very robust and it will restore homeostatic pH fairly quickly and easily (Wise 2011).Drinking slightly acidic water is safe as long as the water is clean and contaminant free. Eating plenty of fruits and vegetables every day will also help balance your body pH and keep you strong and healthy."
SOURCE Wise. 2011. Reverse Osmosis Water Filter Guide – Truth, Lies, Minerals & Your Health:Is Reverse Osmosis Treated Low Mineral Water Healthy and Safe to Drink? http://knol.google.com/k/reverse-osmosis-water-filter-guide-truth-lies-minerals-your-health# (Accessed on July 16, 2011). 
Now, the more alkaline or acidic the water, the more buffering that will be required. So, theoretically, the closer we get to the perfect pH of 7.365 the less buffering (nutrients) will be required. However, we are splitting hairs now, as there's not a lot of buffering required to either an acidic or alkaline glass of water. 
Remember, orange and apple juices have a pH of around 3 (very acidic). Does that fact make these juices bad for you? In the eyes of those that promote neutral or high alkaline waters it must! They seem to not realize the body has all the control when it comes to water pH no matter which pH you send in. To me, orange and apple juices are quite healthy! These raw juices that are 99% water with a pH of 3 contain all the nutrients needed for the body to buffer them to the proper pH (without borrowing). Since water does not have the nutrients (water is NOT living despite the mislabeling of "Living" water) needed to ensure no borrowing from the body for the buffering to occur, simply squeeze a citrus fruit into your pure water. This will not raise the pH of the water, in fact, it will lower. The body will use some of those nutrients and enzymes sent in with the water for the necessary buffering. This is not a
necessity
since the cost of buffering water pH is so minimal to the human body.
 The second issue

I have with spring waters are the very minerals contained therein. I never hear those that promote spring water mention this fact either. When it come to spring water all the minerals are DEAD, inorganic, literal toxins to the human body. Costing the body in valuable nutrients (vitamins, minerals, energy, and enzymes) to expel/store the dead (inorganic) minerals that came in with the water from the body. For minerals to be health producing in the human body they must have hydrogen, carbon, and oxygen (aka a protein molecule) attached to the mineral. Humans cannot attach protein molecules to anything, nor can any animal in the animal kingdom. If we were capable, we would be able to drink pasteurized milk and convert it to raw milk. Only the plant kingdom is capable of attaching protein molecules to inorganic soil (minerals) making the soil alive, or useful to the human body. 

The main reason I prefer pure water is that I do not want all those metals and dead minerals found in spring water to enter my body. 
The principal natural sources of the hardness found in spring water are dissolved polyvalent metallic ions from sedimentary rocks, seepage and runoff from soils (and who knows what else are in those soils?). 
As a youth my buddies and I would hike in Palm Springs California at a place called Tahquitz. It was great, with its deep pools and tall waterfalls. We would jump from the tallest falls bare naked into the pools below. Tahquitz was loaded with foolish dangers that as kids we loved so much. Areas like "lizards ledge", a ledge that was only a few inches wide that had to be crossed to reach the falls and if you fell, it would most certainly be to your death. The stream that flowed down the middle of this canyon was at times so incredibly strong and loud, that we would have to yell at the top of our lungs just to communicate with someone standing only 20 feet away. We heard on a few occasions of people drowning because of the flash floods that occurred there with regularity. Sometimes it became extremely hot while we were hiking in the canyon. So we would drink and fill our canteens straight from this roaring stream. The powers that be have long since closed down our beloved canyon. However, prior to the close I remember one time a mountain goat had died upstream and was decomposing in the stream. Unknowingly we drank from the stream like we always did. Everyone of us became SO sick from drinking that spring water we almost wished we would die. The point is you never know what is in the water if the water is not pure.  
For me, something just does not feel right about purposely eating the bad things found in spring water. Those dead minerals, metals, etc., will require even more buffering to neutralize and remove/store from your body than simply buffering the lower pH pure water to the proper pH.
I remember when a product called Adya Clarity came out on the market. It bound the minerals in spring water together and many raw food leaders were beside themselves with euphoria. They loved this product! They would put a couple drops in their glass of spring water and became literally giddy as they watched the water cloud up from the minerals binding to each other. They were so happy! The only thing I thought was, "Look at all that crap in their water!" Then I read the ingredients of Adya Clarity and knew from day one this too is something that should not go into my body. Turns out months later, the same people that touted this stuff as a lifesaver of spring water proclaimed it harmful to the human body. Both refunds and lawsuits ensued and I for the life of me could not understand why they did not simply drinkpure water.
If you were to separate all the components from a fruit and placed them in separate piles. Enzymes in one pile, vitamins in one pile, pulp in another, minerals, fat, protein, etc in their perspective piles. When you were done you would have water, nothing but pure water. This pure water is what I believe we should consume. In fact, it is the exact same water molecule that our own bodies manufacture via the oxidation process. This is why I recommend Reverse Osmosis water. This type of water is nothing but pure water molecules, again, the same pure water our own bodies manufacture. RO can be every bit as alkaline as spring water and if it is not, simply add a citrus (but not required).  
If I had to say something negative about RO, it would be that it takes a lot of water to create RO water. 
I DO NOT CLAIM TO KNOW EVERYTHING ABOUT HEALTH
However, I do claim to know a lot about health, and unlike most I am not afraid to tell you if I am not sure about something. I can tell you this for sure, RO is the type of water I've consumed for at least a decade and my tissues test alkaline. So, I ask you, "How bad can this type of water be?" The next 
time someone tells you spring or high alkaline waters are the way, ask them if they've had their tissue pH tested lately? 
In the end, like always, the choice is yours. I do not think you will be terribly disappointed if you choose either spring, high alkaline, or RO because none of them are that horrible for human consumption.  
Since a choice must be made, around here we choose RO and our own tissues seem to agree. If you want hands down the very best water in world, its located right in your own food!
Hello! Thanks for getting to this site!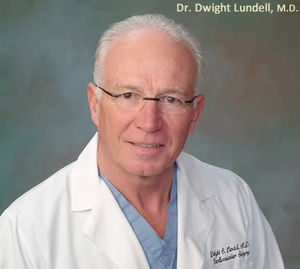 Dr. Dwight Lundell speaks out………
We physicians with all our training, knowledge and authority often acquire a rather large ego that tends to make it difficult to admit we are wrong. So, here it is. I freely admit to being wrong. As a heart surgeon with 25 years experience, having performed over 5,000 open-heart surgeries, today is my day to right the wrong with medical and scientific fact.
I trained for many years with other prominent physicians labelled "opinion makers." Bombarded with scientific literature, continually attending education seminars, we opinion makers insisted heart disease resulted from the simple fact of elevated blood cholesterol.
The only accepted therapy was prescribing medications to lower cholesterol and a diet that severely restricted fat intake. The latter of course we insisted would lower cholesterol and heart disease. Deviations from these recommendations were considered heresy and could quite possibly result in malpractice.
It Is Not Working!
These recommendations are no longer scientifically or morally defensible. The discovery a few years ago that inflammation in the artery wall is the real cause of heart disease is slowly leading to a paradigm shift in how heart disease and other chronic ailments will be treated.
The long-established dietary recommendations have created epidemics of obesity and diabetes, the consequences of which dwarf any historical plague in terms of mortality, human suffering and dire economic consequences.
Despite the fact that 25% of the population takes expensive statin medications and despite the fact we have reduced the fat content of our diets, more Americans will die this year of heart disease than ever before.
Statistics from the American Heart Association show that 75 million Americans currently suffer from heart disease, 20 million have diabetes and 57 million have pre-diabetes. These disorders are affecting younger and younger people in greater numbers every year.
Simply stated, without inflammation being present in the body, there is no way that cholesterol would accumulate in the wall of the blood vessel and cause heart disease and strokes. Without inflammation, cholesterol would move freely throughout the body as nature intended. It is inflammation that causes cholesterol to become trapped.
Inflammation is not complicated — it is quite simply your body's natural defence to a foreign invader such as a bacteria, toxin or virus. The cycle of inflammation is perfect in how it protects your body from these bacterial and viral invaders. However, if we chronically expose the body to injury by toxins or foods the human body was never designed to process,a condition occurs called chronic inflammation. Chronic inflammation is just as harmful as acute inflammation is beneficial.
What thoughtful person would willfully expose himself repeatedly to foods or other substances that are known to cause injury to the body? Well, smokers perhaps, but at least they made that choice willfully.
The rest of us have simply followed the recommended mainstream diet that is low in fat and high in polyunsaturated fats and carbohydrates, not knowing we were causing repeated injury to our blood vessels. This repeated injury creates chronic inflammation leading to heart disease, stroke, diabetes and obesity.
Let me repeat that: The injury and inflammation in our blood vessels is caused by the low fat diet recommended for years by mainstream medicine.
What are the biggest culprits of chronic inflammation? Quite simply, they are the overload of simple, highly processed carbohydrates (sugar, flour and all the products made from them) and the excess consumption of omega-6 vegetable oils like soybean, corn and sunflower that are found in many processed foods.
Take a moment to visualize rubbing a stiff brush repeatedly over soft skin until it becomes quite red and nearly bleeding. you kept this up several times a day, every day for five years. If you could tolerate this painful brushing, you would have a bleeding, swollen infected area that became worse with each repeated injury. This is a good way to visualize the inflammatory process that could be going on in your body right now.
Regardless of where the inflammatory process occurs, externally or internally, it is the same. I have peered inside thousands upon thousands of arteries. A diseased artery looks as if someone took a brush and scrubbed repeatedly against its wall. Several times a day, every day, the foods we eat create small injuries compounding into more injuries, causing the body to respond continuously and appropriately with inflammation.
While we savor the tantalizing taste of a sweet roll, our bodies respond alarmingly as if a foreign invader arrived declaring war. Foods loaded with sugars and simple carbohydrates, or processed with omega-6 oils for long shelf life have been the mainstay of the American diet for six decades. These foods have been slowly poisoning everyone.
How does eating a simple sweet roll create a cascade of inflammation to make you sick?
Imagine spilling syrup on your keyboard and you have a visual of what occurs inside the cell. When we consume simple carbohydrates such as sugar, blood sugar rises rapidly. In response, your pancreas secretes insulin whose primary purpose is to drive sugar into each cell where it is stored for energy. If the cell is full and does not need glucose, it is rejected to avoid extra sugar gumming up the works.
When your full cells reject the extra glucose, blood sugar rises producing more insulin and the glucose converts to stored fat.
What does all this have to do with inflammation? Blood sugar is controlled in a very narrow range. Extra sugar molecules attach to a variety of proteins that in turn injure the blood vessel wall. This repeated injury to the blood vessel wall sets off inflammation. When you spike your blood sugar level several times a day, every day, it is exactly like taking sandpaper to the inside of your delicate blood vessels.
While you may not be able to see it, rest assured it is there. I saw it in over 5,000 surgical patients spanning 25 years who all shared one common denominator — inflammation in their arteries.
Let's get back to the sweet roll. That innocent looking goody not only contains sugars, it is baked in one of many omega-6 oils such as soybean. Chips and fries are soaked in soybean oil; processed foods are manufactured with omega-6 oils for longer shelf life. While omega-6′s are essential -they are part of every cell membrane controlling what goes in and out of the cell — they must be in the correct balance with omega-3′s.
If the balance shifts by consuming excessive omega-6, the cell membrane produces chemicals called cytokines that directly cause inflammation.
Today's mainstream American diet has produced an extreme imbalance of these two fats. The ratio of imbalance ranges from 15:1 to as high as 30:1 in favor of omega-6. That's a tremendous amount of cytokines causing inflammation. In today's food environment, a 3:1 ratio would be optimal and healthy.
To make matters worse, the excess weight you are carrying from eating these foods creates overloaded fat cells that pour out large quantities of pro-inflammatory chemicals that add to the injury caused by having high blood sugar. The process that began with a sweet roll turns into a vicious cycle over time that creates heart disease, high blood pressure, diabetes and finally, Alzheimer's disease, as the inflammatory process continues unabated.
There is no escaping the fact that the more we consume prepared and processed foods, the more we trip the inflammation switch little by little each day. The human body cannot process, nor was it designed to consume, foods packed with sugars and soaked in omega-6 oils.
There is but one answer to quieting inflammation, and that is returning to foods closer to their natural state. To build muscle, eat more protein. Choose carbohydrates that are very complex such as colorful fruits and vegetables. Cut down on or eliminate inflammation- causing omega-6 fats like corn and soybean oil and the processed foods that are made from them.
One tablespoon of corn oil contains 7,280 mg of omega-6; soybean contains 6,940 mg. Instead, use olive oil or butter from grass-fed beef.
Animal fats contain less than 20% omega-6 and are much less likely to cause inflammation than the supposedly healthy oils labelled polyunsaturated. Forget the "science" that has been drummed into your head for decades. The science that saturated fat alone causes heart disease is non-existent. The science that saturated fat raises blood cholesterol is also very weak. Since we now know that cholesterol is not the cause of heart disease, the concern about saturated fat is even more absurd today.
The cholesterol theory led to the no-fat, low-fat recommendations that in turn created the very foods now causing an epidemic of inflammation. Mainstream medicine made a terrible mistake when it advised people to avoid saturated fat in favor of foods high in omega-6 fats. We now have an epidemic of arterial inflammation leading to heart disease and other silent killers.
What you can do is choose whole foods your grandmother served and not those your mom turned to as grocery store aisles filled with manufactured foods. By eliminating inflammatory foods and adding essential nutrients from fresh unprocessed food, you will reverse years of damage in your arteries and throughout your body from consuming the typical American diet.