thank you for being on this site right now! deep gratitude to you!
After decades of research, my common sense led me to understand  why all of humans are so sick. A few thoughts I have that you can toss about with yourself:
This is what happens to food when we cook it:
Produces compounds toxic to us
increases the load placed on your digestive track
most antioxidants rendered unusable
enzymes all destroyed
proteins become denatured and restructured
vitamins destroyed and damaged
fats become stickier
carbohydrates are changed and A.G.E.'s are produced
Genetically Modified Food to begin with which causes disease right by itself…
Our ancestors had to eat what was available, I don't think they waited for technology to come along and provide machines for cooking.
Also wherever there is big money, expect to hear misinformation……..
Are you full of cooked food sitting in your 37 feet of intestines? The way to figure that one out is to see if you have a big bulge under your belly button area. Yes? Thats poop!
Dr. Gabby
thanks folks we thankful for your every click!
In fact, many scientists now recognize the gut as an external organ, although it is inside our body. This is because the gut is the gateway to the bloodstream and rest of the body. The intestinal barrier, located in the lining of the small intestine, is what prevents harmful substances from entering our body. So where do things go wrong? When that barrier is damaged or compromised, foreign molecules can pass through the barrier to the bloodstream causing the body to launch an immune response to protect itself. This is known as intestinal permeability, or what many refer to as "leaky gut," which is connected to a wide variety of health conditions, including food sensitivities, allergies, and autoimmune diseases. The following is a partial list of conditions related to intestinal permeability:

Rheumatoid Arthritis
Fibromyalgia
Hashimoto's Thyroiditis
Inflammatory Bowel Diseases (Crohn's, Ulcerative Colitis)
Depression, Anxiety, and Mood Disorders
Schizophrenia and other mental health disorders
Multiple Sclerosis
Lupus
Chronic Fatigue Syndrome
Type 1 Diabetes
Asthma and Allergies
Skin Disorders (Acne, Eczema, Psoriasis)
It is also essential that our gut contain a proper balance and wide diversity of beneficial bacteria. These tiny intestinal organisms digest your food, control your appetite and metabolism, orchestrate your immune system, affect your mood, and help determine how your genes are expressed. They play a major role in heart, bone, and brain health along with producing certain nutrients.

Unfortunately, our modern world is full of things that upset the glorious balance of the microbiome, leaving the majority of the population with inadequate beneficial bacteria. The following lists the most common offenders when it comes to gut health:

Medications such as antibiotics, birth control, non-steroidal anti-inflammatory drugs (NSAIDs), anti-depressants, antacids, and more
Chronic stress, which can affect gut permeability and change bacterial composition
Exposure to environmental toxins, especially pesticides, herbicides, heavy metals (lead, mercury, arsenic), and plastics (Bisphenol-A)
Food toxins such as artificial preservatives, colorings, sweeteners, hormones, antibiotics, and chemical additives and in some cases wheat and gluten
Dental toxins including mercury amalgams, root canal toxins, and poor oral hygiene
Inadequate bacterial acquisition at birth (C-section, parents gut health, inadequate breast feeding)
Current health or disease status
The good news is that our intestinal cells can regenerate and the lining can be repaired. In fact, the intestine is the most highly regenerative organ in the body, regenerating its lining every five to seven days. This continual cell renewal allows the lining to withstand the constant wear and tear of breaking down food, absorbing nutrients and eliminating waste. To improve the health of your glorious gut, follow this four-step approach:
Remove the gut offenders listed above as best you can, to minimize cumulative damage.
Restore the health of your digestive system by consuming whole foods rich in enzymes, fiber, and nutrients.
Reintroduce beneficial bacteria by consuming fermented foods (yogurt, sauerkraut, miso, tempeh, kimchi, kombucha, etc. – see last month's newsletter) or by taking a probiotic supplement.
Food toxins such as artificial preservatives, colorings, sweeteners, hormones, antibiotics, and chemical additives – and in some cases wheat and gluten
Repair the intestinal lining with gut-healing foods. Diet has the most powerful influence on gut microbial communities in humans. Choose whole foods rich in polyphenols, which promote growth of prebiotic microbes (food for our good bacteria) and decrease disease-causing bacteria.
If you have ever had a digestive problem, you know how it can negatively affect your health. By fixing problems in the gut, especially with bacterial balance, you may find many other health improvements such as a loss of excess fat, gains in energy, and better overall mood. Never underestimate the power you have to restore health by focusing on your glorious gut.
November 19, 2017 by admin
Filed under BLOATED, Candida Yeast, Cleansing, Coffee Enemas, Colon Cancer, Colon Cleanse, Colon Hydrotherapy, Colonic, Colonic Implants, Colonic Irrigation, Colonic Misconceptions, Constipation, Enema, Gas and Bloating, Mega Colon, What is a Colonic?
Thank you for looking at the colons with me. I don't expect you to learn a lot here just gaze at where colons are in the body. That's it.
So big bellies equal full colons. That's it.
Thanks a bunch for reading this today….
Humans are clusters of energy waves, moving faster and faster all the time. As a human you have agreed to see yourself as solid forms through consensus reality. Everything you do and think, everything you eat and drink, in fact, everything you put into and around your body effects the overall vibration of your entire being. After all, we are energy, and food is energy for us, thus affecting our energy overall.
Therefore, it is quite essential that you pay attention to the vibrations of the foods you eat. When you eat foods that have a high and rapid vibration, you are more able to hold a strong, healthy, exuberant and joyful state. When, on the other hand, you eat foods of a slower, lower frequency, you lower your vibrations and, wonder why you don't feel quite so good that day.
Each of us has a signature vibration; each food you ingest contributes to that vibration. Here are some of the foods for lower vibrations that you should avoid, not just for nutrition and toxin's sakes:
Genetically modified (GMO) food, and conventional food that's been treated with chemicals and pesticides
White rice and flours
Sugars, sweeteners (artificial etc.)
Coffee
Sodas
Alcohol
Meat, fish and poultry
Processed, packaged, canned and fast foods
Unhealthy oils, like canola, cottonseed, margarine, and vegetable oils
Frozen foods
Pasteurized cows milk, yogurt and cheese
Cooked foods, deep fried foods and microwaving food
Colonically yours
October 15, 2016 by admin
Filed under Colon Cleanse, Colon Hydrotherapy, Colonic, Colonic Health Benefits, Colonic Implants, Colonic Irrigation, Colonic Misconceptions, Colonoscopy prep, Constipation, Detox, Enema, Misc. Posts
We appreciate you taking time to navigate this topic. Click the link below and see the history of colonics along with pictures of all the G.I. track disorders. 
COLONIC SESSIONS ARE HELPFUL WITH: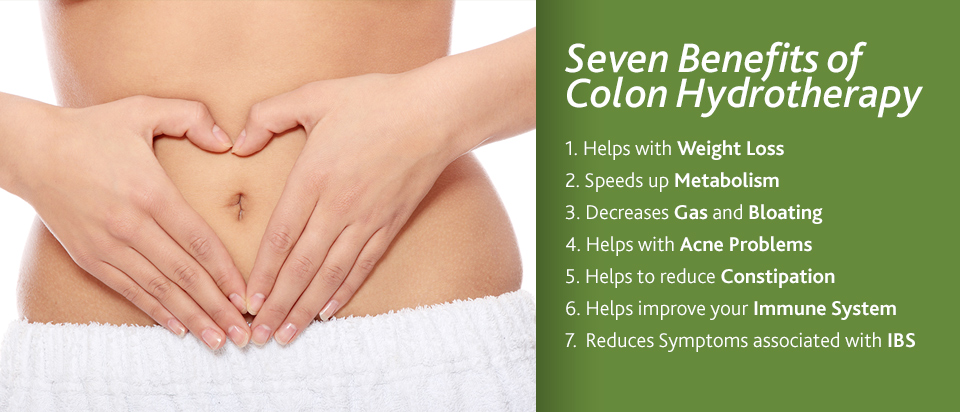 July 17, 2016 by admin
Filed under Colon Cancer, Colon Cleanse, Colon Hydrotherapy, Colonic, Colonic Health Benefits, Colonic Implants, Colonic Irrigation, Colonic Misconceptions, Colonoscopy prep, Constipation
thank you all!
A good cleanse reboots our whole being.
Maintaining endurance and energy levels
Ensuring that your organs, cells and other internal systems function properly
Keeping proper muscle and skin tone
Preventing and relieving constipatio
July 17, 2016 by admin
Filed under BLOATED, Colon Cancer, Colon Cleanse, Colon Hydrotherapy, Colonic, Colonic Health Benefits, Colonic Implants, Colonic Irrigation, Colonic Misconceptions, Constipation, Gas and Bloating
 So glad you clicked in here!
10 Benefits of Colon Cleansing – The how's and why's of colon detox
Colon
cleansing
 can help improve your body's overall health and wellness, and may even reduce your risks for colon cancer.
Makes the digestive system more effective
As the colon is cleansed, it pushes undigested waste through your system, clearing the way for good nutrient absorption. If waste remains in the body for too long, it becomes a breeding ground for bacteria and illness. A clean colon from a colon detox allows undigested waste to pass easily through your system.
Maintains regularity and prevents constipation
Constipation — especially when it's chronic — causes a sluggish digestive response, which in turn leaves waste in the system longer. This increases the likelihood that toxins will be released into the bloodstream. It is also a cause of other illnesses and irritations, such as hemorrhoids and varicose veins.
Increases energy
Releasing the toxins from your body is rejuvenating because it refocuses the energy usually used for forcing waste through your intestines to other parts of your body. People who have undergone colon detoxification say they have better blood circulation, more restful sleep and a boost in energy.
Increases the body's absorption of vitamins and nutrients
A colon that has been cleansed allows only water, vitamins and nutrients to be absorbed into the bloodstream, rather than releasing toxins and bacteria through the colon walls. When the colon is detoxified, it clears the way for essential nutrients to filter into your body unobstructed.
Improves concentration
Poor diet and ineffective vitamin absorption can cause you to become distracted and lose your concentration. The buildup of mucous and toxins in your colon can keep your body from getting what it needs to function, even if you eat a consistently healthy diet. Cleansing the colon with a detox diet can be the difference between feeling alert and not being able to focus. This has far-reaching ramifications for work, your relationships and your overall health.
Kick-starts weight loss
Foods lacking in fiber move through the digestive tract at one-quarter the pace of high-fiber choices. This slow-moving food produces excess mucous that literally sticks to the intestinal walls, weighing the intestinal tract down with pounds of decaying fecal matter.
Colon cleansing has the potential to aid weight loss; some people claim to have lost up to 20 pounds over the course of a month. The average human colon weighs about four pounds empty and can hold up to eight meals' worth of food before digestion finally occurs. A colon cleansing can result in significant weight loss and kick-start your metabolism, as well as refocus your attention on better food choices and whole-body wellness.
Decreases risk of colon cancer
All the toxins that you eat, drink, breathe in and absorb through your skin end up being processed by your gastrointestinal system and liver. If they are not forced from your colon and liver as quickly as possible, they can wreak havoc on your body's systems. By releasing stagnant body waste, you reduce the causes and the risk of polyps, cysts and cancerous growths in your colon and gastrointestinal tract.
Increases fertility
Colon cleansing, as well as increased fiber intake and healthy food choices, improves regularity and helps keep your weight under control. Fat is estrogen-based, and if too much is present, becoming pregnant becomes more difficult. A colon that is weighed down by years of buildup can also press on the uterus and surrounding reproductive organs in women, causing strain.
Colon cleansing rids the body of many chemicals and toxins that affect the egg and sperm. Many naturopaths recommend that both partners undergo colon cleansing before attempting pregnancy.
Maintains pH balance in the bloodstream
Foods that cause colon blockages are acid-forming — particularly high-protein diets without enough fiber. This leads to general malaise in the body. The tissue of the colon eventually becomes diseased and inflamed, reducing the colon's ability to do its job, which is to allow only water, minerals and vitamins to pass into the bloodstream. If yeasts, molds, fungus, bacteria, parasites or fecal material enter the bloodstream and connected tissue, the body's pH will be thrown out of balance.
Improves whole-body well-being
Ridding the colon of waste and toxins by releasing layers of colon buildup can lead to feelings of lightness, strength and overall good health.
Thank you for visiting Us!
Take a look at your house AC/HVAC filters after only one month. Filthy dirty with the stuff you're breathing through your body filters each day. The following body parts get dirty, where most all disease starts from…..
Clean your filters…..
Hello Beautiful! You are a Unique Gift to the Planet! Thank you for Honoring me with Clicking into My Blog Site!
WAKE UP NORTH CAROLINA!   And Remember, we love our heroic Medical Doctors! We are not addressing those folks here!  
 When you find out that Colonics have been around in one form or another for 5,000 years , and everyone knew about but you,  then you  can thank the American Medical Association.   
Here are the reasons why the M.D. "QUACK BUSTING" scam was Formed;
 (1)  SET UP A CENTRAL PROPAGANDA CENTER
   (2)  CONTROL WHO GETS PROSECUTED
(3)  AFFECT MEDICARE, AND MEDICAL INSURANCE COMPANY DECISIONS...
(4)  USE THE SYSTEM TO HARASS, DISCOURAGE, AND DESTROY LEADING-EDGE PRACTITIONERS AND PROVIDERS…
(5)  DEMORALIZE THE OPPOSITION BY THE VICIOUSNESS OF THE CAMPAIGN.
Colonics with colon hydrotherapy got super high tech in the early 1900′s like all of our other technology that we're grateful for. It is an enema. Old Fashioned enemas get 6 inches of the colon and we get six and seven feet of it. Dr. Kellogg, Natural, G.I. M.D. used colonics to heal 40,000 patients without surgery. So the American Medical Ass. was formed because the agenda was to drug and cut patients. He refused to do both. Hence the start of their vicious smear campaigns.
Read Tim Bolan's investigation  with regards to how QUACK BUSTERS WAS FORMED" , Then see if you trust NON HEROIC doctors. Non Heroic  Doctor means you can walk in and you are seeking help and advice, and you walk out without advice and a prescription for harmful, synthetic drugs, that exacerbate the toxicity of anyone's health status, hide the symptom you sought help for and the prescription is telling your body to 'SHUT THE HELL UP". Exactly, when you take a pill for high blood pressure you tell your heart to "SHUT THE HELL UP! " Every day you take the little pill, that is the comment I get by the way, Clients tell me "BUT I am on the smallest pill and the lowest dose…it's a little pill….".
No one cares how big or small a pill is folks…..it is telling your heart to "SHUT THE HELL UP". Very impolite to do to a miraculous, super genius, biological body! Most N.D.'s will tell you it is simply a specific mineral depletion.
Now I want you to read how the American Medical Asses have made it so you think you need prescriptions for a hangnail…
Who are these so-called "Quackbusters"?…
 Consumer Advocate Tim Bolen
North Americans have known, or suspected, for some time, that there has been an organized assault by a group, against companies, and practitioners, offering alternatives to the drugs/surgery paradigm. That group calls itself the"quackbusters," and they are a scam.
I'm about to tell you WHY that assault was formally assembled, HOW THE SCAM works, and WHO the players are, and WHAT they're up to right now.  
If you know who they are, and how they operate, you can beat them.
North America has been going towards what are called "alternatives," in health and medicine, in a big way.  More than half of the US health dollar is currently being spent on this phenomena.  With new billing codes (ABC Codes) going into effect, allowing insurance and Medicare to pay for "alternative" therapies, that percentage will, no doubt, increase dramatically.
In California, the fifth largest stand-alone economy in the world, where I live, the health freedom movement is much larger than anywhere else.  Here, we'd rather be healthy than medicated.  We've analyzed the politics of the problem, and successfully turned the political environment to our way of thinking.  We simply do not put up with "quackbuster" crap, here..  Why should we?
Throughout this discourse keep something important in mind.  It's this – we in the Health Freedom Movement outnumber the quackbusters 100,000 to 1.  We've got more money than they do, and we've got better, and more talented people.  We also have better lawyers.  It is time to use our advantage to destroy them.
WHY IT WAS FORMALLY ASSEMBLED…
Three things, I believe, seriously alarmed conventional (mainstream) medicine and spurred them to action in late 1996.
The FIRST thing was reports showing that medical care in this country is so bad that doctors and hospitals were listed as the third largest cause of unnecessary death. Since then, they have moved to the Number one spot.  Americans have been finding out that the average MD these days, beyond the emergency room, has little to offerbeyond  the "magic bullet," meaning the new drug pushed this week by the drug company salesman.
The bottom line in conventional medical care is a shock, and Americans are expressing their displeasure with the situation with their changes in health buying patterns -  which leads to the Second thing.
The SECOND thing was a 1993 report in the New England Journal of Medicine (JAMA) that showed the huge financial impact of "Alternative Medicine" on the US health care dollar.
The THIRD was the Clinton Administration's identification of "health fraud" as a major cause of health care's rising costs – and the announcement of Attorney General Janet Reno's plans to deal with that issue STRONGLY.
THE EFFECTS ON MAINSTREAM…
STOMACH ACHE #1 - The 1993 JAMA report on Alternative Medicine… had to be a shock to conventional medicine.  It showed that the American public was not in the"Marcus Welby," or the "Ben Casey" mode any more – where the guy in the white coat, with the stethoscope around his neck, was America's sole source of health advice.  The "Ask Your Doctor" program was flat-out dying.
The JAMA report suggested that more visits were being made to unconventional practitioners in 1990 then to conventional – 488 million unconventional visits to 388 million to primary care physicians.  13.7 billion dollars was spent on unconventional practices as opposed to 12.8 billion for hospitalization.   Alternative Medicine, which excels outside of the Emergency Room was, offering real health solutions.
STOMACH ACHE #2 - Then, in 1995, Janet Reno, the then Attorney General, under the direction of the US President, came out with a program identifying "health fraud" as a major problem in the US health care system.  She shocked, and frightened, conventional practitioners.  "Health Fraud" - was, and is, defined by the Justice Department as "Over billing, false coding, MD kickbacks, etc.."   Reno, of course, was right – conventional medicine was, and is, involved in sheer greed and dishonesty.  It was, and is, a huge problem.
In response, mainstream medical went into orbit, trying to deflect her attack – to no avail.  Janet Reno was teaching "seniors" how to read their medical bills – and turn their doctor into the Feds.  The "Meds" were in trouble with the "Feds."  And, still are.  And, should be…
So mainstream, rather than fix their own house, had to come up with a plan to counter these two assaults on their dollar intake.  They did… and here it is…
HOW THE SCAM WORKS…
In 1996, mainstream launched their counter-attack.  It was a four part dis-information Public Relations campaign designed to kill two birds (stomach aches)with one stone.  They wanted Janet Reno (and the American public) off their backs, and they wanted to get rid of their upstart competitor Alternative Medicine.  So they came up with a simple plan  – re-define the term "health fraud" with a massive dis-information campaign.  The intent was to re-define the word AWAY from Reno's definition of "Over billing, false coding, MD kickbacks, etc.." to a different focus -"Alternative Medicine."  They put the plan into effect.
Enter, from stage right - the "quackbusters…"
PART ONE of the plan was  what I call the "definition switch."   Janet Reno, in her original plan, had expected cooperation from the State Medical Boards. She expected the Boards to prosecute billing cheaters. She NEVER got that cooperation.
In Chicago in 1996, at the FSMB (Federation of States Medical Boards) annual meeting, a major program was presented.  It was, supposedly, on "health fraud,"and how to combat it.   Conspicuously, there were no speakers from Janet Reno's team.  If any of Janet Reno's people thought this was going to help the Federal program – they were wrong.
The Feds that were attending must have been in shock, upon seeing the presentation.  Only once in the program was the Fed's definition of "health fraud"ever mentioned - it was by FTC's Matt Daynard who made it clear that their (the FTC's) concerns were MUCH broader than theirs. Other than an apparently confused Daynard, no where in the program was there a discussion of how to prosecute doctors who over-billed, false coded, took kickbacks, etc.  All they talked about was "Alternative Medicine," and how to prosecute it – calling it "health fraud."
From that moment on – While Feds prosecuted sleazy hospitals, greedy MDs, clinics, ambulance operators, home suppliers, etc., State Medical Boards were to target two categories (a) solo practitioner MDs that recommended supplements, exercise, etc., instead of prescription drugs, and (2) unlicensed competitors to the drug/surgery dollars, i.e.;  Naturopaths, Homeopaths, Nutritionists, Health food Stores, Massage Therapists, etc..
And the war began in earnest.  For, even then the Health Freedom Movement, although not organized, had muscle.   Hundreds of fights across the nation, ensued.
PART TWO of the plan was to affect Federal Agencies – and try to redirect those agency's efforts away from the Justice Department's program, and convince them to focus their energies on "Alternative medicine" proponents.  They did this with a four-part sub-plan.  (a)  They invited FTC and FDA lower level employees to their meetings for the express purpose of propagandizing, and kissing-up to them.  (b).  They created a system of "meetings" where they had access to those Federal employees on a regular basis – for the purpose of propagandizing them  (c)  They used their contacts within those Federal agencies to gain unwarranted credibility for their own plans, and anti-alternative medicine programs. (d)  They got the US Department of Health and Human Services (DHHS) to give them official government credibility.
PART THREE of the plan, was a propaganda gambit. It was in two parts (a)  create a so-called "information base."  Websites appeared, sounding authoritative, like Stephen Barrett's sleazy "quackwatch.com," and others.  The questionable organization, the National Council Against Health Fraud (NCAHF), was to provide so-called "expert witnesses" for testimony.  The FSMB was to act as a clearinghouse, both for names of people suggested for prosecution (persecution), and for where to find "information" and "expert witnesses."  And more…
DHHS was duped into giving the quackbusters unwarranted credibility.  Type in the key words "health fraud" on a government website, and up pops the National Council Against Health Fraud's website, and quackwatch.com.
The second part (b) , and equally important was to demonize, and criminalize, all aspects of "alternatives" through false suggestions, or claims, against them.  For instance;  The claim that herbals are "untested" and not "standardized" is simply a ploy to make herbals look bad.   Herbals do not need to be "tested," nor"standardized."    Herbals are more like wine – since they are a natural product, dependant upon natural factors like weather, no two batches are going to be the same.   Herbals, being part of nature (part of earth's life cycle) have been field tested since the beginning of time.  The "testing" process we the people put in place is for new "drugs," not herbals – those things, unlike herbals, that have NEVER been introduced into the human body before.  Generally speaking, drugs are HUGELY DANGEROUS – hence the warnings of side effects.
PART FOUR of the plan was to create a relationship with Medicare, and the health Insurance Industry, to supposedly, advise them of "health fraud."  It incorporated, in a sub-plan parts One, Two, and Three, above.
WHO THE PLAYERS ARE…The whole scam is run out of a New York ad agency…
I believe one of the primary players in this scam is the Board, management, and staff of the FSMB (Federation of States Medical Boards).  Their website basically says "We don't know what alternative medicine is – so we'll call it health fraud."  It is they, I believe, who control the daily operation of the plot.  As you read this, at exactly this moment, some, or all of the FSMB people, are probably on the phone, the FAX, or the internet, organizing the persecution of some unsuspecting leading-edge healer in North America.  Ten minutes from now, they will begin another.  Then another, then another,  then another…
The National Council Against Health Fraud (NCAHF) is another player.  It wants to appear to be an important wheel in health care.  The reality is different.  It was rudely EVICTED from Loma Linda University a few years ago, and after bouncing around from place to place, has now found a home in a hair removal salon in Massachusetts, where the NCAHF president, Robert S. Baratz MD, DDS, PhD is the "Medical Director."  Hair removal?
One other player, recently fading from the scene, muscled out by Bobbie Baratz, isStephen Barrett MD, who the Pennsylvania licensing board officially classifies as"Not in Good Standing," operates the dubious website "quackwatch.com" out of his basement in Allentown, Pennsylvania.
There are other players, but it would take to long to explain how it works.  Again, I recommend James Carter MD's SUPERB book "Racketeering In Medicine." as a resource.  Page #44 has an outline of the whole quackbuster scam.
THE REAL PROBLEM IS…
What is the REAL problem, exactly?  Generally, "we" are the problem.  "We"meaning the North American Health Freedom Movement. Specifically, it's that "we," in the Health Freedom Movement haven't completely countered the attack plan put into place a few years ago (1996), by the quackbuster conspirators to destroy"Alternative Medicine."   It's time we did that. – and we can do it relatively easily.
What we have to remember is that, despite the quackbuster's best efforts,"Alternative Medicine" is gaining, not losing, ground in public acceptance.  Americans aren't buying into the quackbuster "big lie" propaganda program.
Since identifying a problem is half-way to solution – we're more than half done solving this issue.
SO WHAT ABOUT THE QUACKBUSTER'S BIG PLAN?
We know that several years ago, the plan was put together, and explained at the 1996 meeting of the FSMB, by a group of conspirators, to use the Medical Boards, the FSMB, the Attorney Generals, certain employees of the FTC and the FDA, and top quackbusters for the purpose of stamping out "Alternative Medicine."  Although the whole thing was exposed in magazines like "The Townsend Letter," the plan was activated.  It is on-going now.  At that time there was no super-strong (like there is now) "Health Freedom Movement," per se – so there was no national counter-strategy, and no counter-action.
That was THEN – this is NOW.
Now, of course, we know that when a "top quackbuster" shows up to testify somewhere, someone is waiting with the equivalent of a factual ball-bat – and that quackbuster is publicly exposed for the out-of-a-job loser crackpot they really are.  In other words, we've negated an important component in their attack plan – their so-called "experts."  We did this to Bobbie Baratz in Wisconsin.  Each time he opened his mouth he sank deeper into the quicksand.

Dismantling their "activated plan" is also really a simple exercise.  We simply use our size, and intelligence, advantage.
"The Plan of 1996," such as it is, was in five parts, and it had a basic theme – Destroy Alternative Medicine by "Criminalizing" it.  Kind of like depicting Mother Theresa as "the whore of Calcutta."
Their five part plan goes like this:  (1)   Set up a central propaganda center.  (2)  Control who gets prosecuted through the FSMB, and medical boards.   (3)  Affect Medicare, and Medical Insurance Company payment decisions  (4)  Use the system to harass, discourage, and destroy Alt Med practitioners, and providers.  (5)  Demoralize the opposition with the viciousness of the campaign.
"The Plan of 1996″ is having a limited success, not because it's a good plan, but because we don't do anything about it.  Our reaction, to this point, has been to put protective "Health Freedom Laws" in place – and we are having only LIMITED success with that.  We need to change strategies slightly.
WHY IT'S SO EASY TO BEAT THESE PEOPLE…
The quackbusters, I've found, aren't individually, or in groups, that bright.  Read delicensed MD Stephen Barrett's website "quackwatch.com," and his resume, and you'll see what I mean  – and he's their chief propagandist.  Everything he says is like he was simply filling out a form someone, with a higher intelligence, gave him.  His mouthings are boringly the same, each and every time. 
Keep in mind that Barrett, although claiming to be a retired Psychiatrist, was never able to become "Board Certified."  He failed his test.  Also, Barrett gave up his MD license in 1993.  I suspect he just couldn't keep up with new things.  His employment record shows he NEVER was able to hold a full-time job – and his claim to"Psychiatric fame" was his part-time (4 to 8 hours a week) employment at a Pennsylvania Mental Hospital – from 1978 through 1993.  From 1976 through 1978 he COULD NOT GET a paying job.
Barrett, with his lack of basic intelligence, is getting hammered when he shows up in a courtroom situation – and tries to inflict his weird opinions on a Judge.  And Barrett has legal problems all over the country.  Basically, I see Barrett as a loser, who couldn't make it in the medical profession.  And, Barrett is TYPICAL quackbuster leadership.
Bobbie Baratz, the current president of the NCAHF, is laughable.  He's, almost literally, hiding under the bed, avoiding depositions asking about his so-called"expertise."  I believe he's desperate for the "testifying" money.  Baratz, who's former position at a Boston area medical center, was terminated (and Baratz doesn't want to talk about it), after a physical altercation with a 72 year old woman, now operates a hair removal business.  Some "expert."  He also operates the NCAHF out of that same hair removal location.
Polevoy, in Canada, is a sissy.  He likes to frighten women.  I think he pees his pants when confronted by the male of the species.  I'm eager to hear his version of the story about why he isn't practicing as a PEDIATRICIAN any more.
I see no reason to be impressed with the visible quackbuster operation…  I'm of the opinion that the original "plan" was written by someone we haven't met yet.
SO WHY DID THEY HAVE ANY SUCCESS, AT ALL?
Because they organized, and activated, a plan…  and we, in the Health Freedom Movement, didn't react with our own plan.
HOW DOES THEIR PLAN WORK?
(1)  SET UP A CENTRAL PROPAGANDA CENTER – They simply set up a series of websites, and telephone numbers, that all of their soldiers, government employees, and members of the public, could refer to for information about"alternative medicine."  They set up a "chat room" to send victims to "for further information."  Unsuspecting readers have no idea that what they're reading is all lies and misrepresentations.
(2)  CONTROL WHO GETS PROSECUTED through the FSMB, and medical boards.  -  Whoever designed the original plan, understood the science of social manipulation.  They understood how to use bureaucrats to their own advantage.
Generally speaking, public employees are not the brightest stars in the sky – they are bureaucrats.  The 1970′s book "The Peter Principle" was written about them.  Dr. Laurence J. Peter was the one who said "In a bureaucracy, everyone rises to their level of incompetence."  How true.
Employees of agencies regulating health care in the United States are no exception.  The only thing you can count on when dealing with them is (a) they are definitely bureaucrats, (b) when it comes to knowledge of the subject they are supposed to regulate – never expect them to know anything about what they are regulating, (c) expect pettiness, brutality, and stupidity in their completion of their assignments.  If you keep these things in mind (and don't be shocked by the reality) – you can deal with them – and get things done.
Yes, it's not right – but it is the way things are.
The quackbusters have been operating in the "public employee" arena for a very long time.  So, they know how to manipulate the arena to their own advantage.  Even though we, in the Health Freedom Movement, outnumber them 100,000 to 1, they can still control who gets attacked (prosecuted), because they've managed to infiltrate, and poison the minds of health agency bureaucrats against "Alternative Medicine."  One of the best examples we've recently found is the "Training Manual for Alternative Medicine Prosecutions," handed out to the gun-toting investigators of the Medical Board of California (MBC).
Investigators of the Medical Board of California (MBC), are only required to have a high school education, are not required to have any medical training, and need only a six-week course at a community college before they're handed their fifteen-shot Berretta nine millimeter automatic, and their "Training Manual for Alternative Medicine Prosecutions."
See how it works?
(3)  AFFECT MEDICARE, AND MEDICAL INSURANCE COMPANY DECISIONS…
Unfortunately, a large slice of the American population relies on Medicare and Medical Insurance for their health care needs.  Those that use this combination solely – remain unhealthy, and then die.  For, as we know, Medicare, and Medical Insurance, offerings have to have undergone an "approval process" before they can be paid for.  Which translates to the unfortunate fact that if you're relying on what Medicare will pay for – you're relying on practices and procedures that are at least FIFTEEN YEARS OUT OF DATE.  And, in the case of Medical Insurance – probably TEN YEARS OUT OF DATE.  New things simply aren't paid for in the Medicare and Medical Insurance world.The "quackbusters" formed an organization called CHIRI (Consumer Health Information Research Institute) for the express purpose of, as James Carter says:
 "The CHIRI has for its constituency the health insurance industry.  It purports to serve that industry in an advisory capacity, by approving or disapproving a particular treatment provided by a health-care provider.  It plans to serve as a health-insurance consultant regarding the legitimacy of certain disabilities and health practitioners.  An example of an "illegal" disability would be chronic fatigue syndrome.  CHIRI is also said to have a computerized list of more than 40,000 American physicians and other medical practitioners who are suspected of using "questionable medical practices."
(4)  USE THE SYSTEM TO HARASS, DISCOURAGE, AND DESTROY LEADING-EDGE PRACTITIONERS AND PROVIDERS…
Taking plan sections One, Two, and Three above into consideration, you can see what effect the combination has on leading-edge health care.  The "system" is designed to protect the status quo.
(5)  DEMORALIZE THE OPPOSITION BY THE VICIOUSNESS OF THE CAMPAIGN.
This section is self-explanatory.  One of the tactics used is to attack health providers who have little, or no, financial resources as brutally as possible, as publicly as possible, so that other providers see what happens when they tell the drug salesmen to go away.
And, so on…
Aren't you sick and tired of the AMA dictating what service you investigate for your well care package? I was !
That's whyI became a Natropathic Practitioner, I was a AMA robot , 8 years under grad and graduate studies and 11 years of practice with a   mainstream, allopathic , traditional, drugs, surgery, injections, testings, non heroic medicine clinics had me so sick, tired, and depressed I needed a change. I uncovered the truth and I share it with you .
When a Medical Doctor comes up with the Big "C" , and refuses drugs, surgery, chemo, radiation, hair loss, nausea, worse toxicity than what caused the big "C" in the first place, and realizes they know patients often times that not, get worse with those types of treatments; they themselves seek our help to detoxify the body, but if they get caught doing it, they are "BARRED FROM THE MEDICAL PRACTICE" lose their medical license and cannot make money at it again.
That is a huge price to pay for trying to detox naturally folks. HUGE
When a medical doctor's wife or family member is so toxic they experience the BIG "C" they sneak in our clinic in disguise, use a fake name, and run out sight unseen.
I don't know